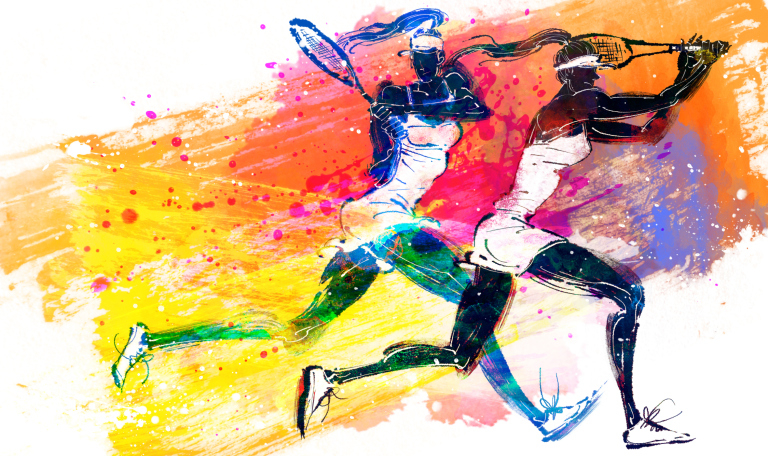 On her way to a legendary sweep of four major tennis tournaments in 2015, Serena Williams, 33, takes time after each victory to "thank Jehovah God" for the success that she enjoys. Along with her tennis competition sibling, Venus Williams, and their older sisters, Serena became a Jehovah's Witness when their mother, Oracene, converted to the faith in the 1980s.
From the Grand Slam to the Calendar Slam
Many tennis watchers had counted Serena out by early 2012, after more than a decade of dominance on the court. Injuries and distractions had seemed to slow her winning pace, and some people considered her past her prime in the competitive tennis world. Since then she has won in the Olympics (singles and doubles, with partner and sibling Venus), repeated wins at the U.S. Open, and more.
She is slamming through 2015 with a string of major wins including:
Australian Open
French Open
Wimbledon
She is looking ahead to the U.S. Open in September, which would cement her legendary status as winner of the so-called "calendar slam" (winning all the major tennis tournaments of the year).
First and Foremost
In giving credit for her January win in the Australian Open, she exclaimed, "I have to thank Jehovah God for this. I was down and out and he helped me today and I just said prayers, not to win but to be strong and healthy, and in the end I was able to come through, so I have to give glory to him first and foremost." Some have dubbed this Divine Performance.
Witnessing
Like all Witnesses, Serena and Venus affirm that they attend church regularly and spend some time going door-to-door, sharing the faith. The well-known tennis stars may get a more receptive welcome at some doors, due to their celebrity status. They naturally make the most of every opportunity to share their faith, and take the chance to explain how their deep and abiding faith has been an integral part of their success on and off the court.
Tree Church on a Green Island
Almost like a fabled druid sanctuary of old, the new Tree Church in New Zealand welcomes nature lovers and worshipers to gather beneath the eaves of a living church structure made of growing trees. A New Zealand businessman who runs a tree service for a day job was inspired when he looked out over his three-acre property on the north island.
And So It Began
"That space needs a church," he thought to himself one day a few years ago as he surveyed his property, "and so it began." The vision quickly took root.
In April 2011, he built an iron frame, "drawing on all the research I had done over the years of studying churches." The edifice took a few years to mature, as its creator trimmed and trained trees to take shape in the form that he had envisioned for the church structure.
"I wanted the roof and walls to be distinctly different," he explained, "to highlight the proportions, just like masonry churches." The green house of worship developed artfully under his guiding hand, and it opened to the public in January 2015.
Open for Visits and Ceremonies
The church is now open to the public Tuesdays through Saturdays for an admission price of $10, with no advance booking required. The 100-seat church of trees is also available for weddings, ceremonies and other special events for a more substantial fee.
The Spirit Within and All Around You
For those who feel inspired and guided by God, the presence is found not just once a week in a building. Those who feel the spirit generally take it with them wherever they go, whether on the tennis court or in a building made of trees, and it gives them strength.