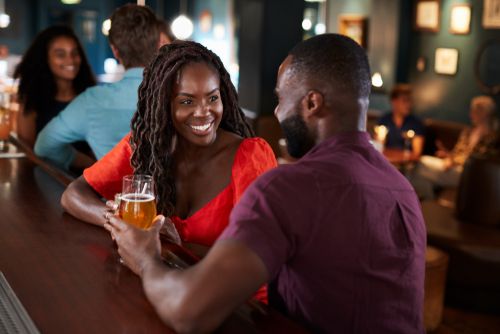 Every morning, you get up and go to work. If you have children, you ferry them around to where they're supposed to be throughout the day. There may even be activities at the church or in the community after work or school that your family is a part of. Once you get home, it is often a rush to get everyone fed, have a little family time and finish all the day's responsibilities before bed.
The daily grind doesn't leave a lot of space for romance. It's important, however, to make time for your partner. If your dating life is in a rut, here are some ideas on how to get it unstuck.
Put a Twist on a Classic
While dinner and entertainment comprise the ideal scenario for some couples, it may feel like just going through the motions for others. A great night out doesn't have to be complicated, though. Choose a restaurant or cuisine that neither of you has ever tried before. Pack a picnic and go to a drive-in or enjoy a play in the park.
Remember that there's no rule that says dates have to happen in the evening. Invite the grandparents over one Saturday morning to watch the kids, and sneak away to your favorite brunch spot and a walk through the museum. Better yet, send the kids to Grandma's so you can sleep in late and enjoy a leisurely breakfast together at home.
Take a Trip
It may seem impossible to take a day or two away, but once you decide to do it, the planning can be quite simple. If you don't have kids or you have someone who can watch them for the weekend, all you need to do is pick a couple of days for a getaway and choose an agenda:
Camping
Playing tourists in a neighboring town
Going on a road trip
Enjoying a spa retreat
Lounging on the beach
No matter how much you love your life, taking an occasional break from your daily schedule is healthy. It can also help you reconnect with your partner and rediscover all the things you love about them.
Reminisce About the Past
One way to reignite the old spark is to think back to the times when it was the strongest. Re-create your first date. Revisit old hobbies or pastimes that you used to enjoy together, such as dancing or trivia night. Attend the concert of a band or artist that reminds you of when you first fell in love.
You don't even have to go out to reminisce about your relationship. Spend a cozy evening on the couch with a glass of wine and your old photo albums. Put on a playlist of sentimental music and have a dance party in your living room. Talk about the things you love most about each other, particularly the things that you found pleasantly surprising as you've grown closer.
Dream of the Future
Making plans for your future together is a surefire way to communicate that you are committed to having one. Over dinner, talk about the dreams each of you has for the future of your relationship and your family. Is there a particular vacation you'd like to take together? What do you want to do when you retire? If you have been talking about the next place you are going to live, touring open houses can be a practical activity as well as a fantastic date.
Making time for each other is an important part of any relationship, especially if your daily schedule is packed full. Trying something different than your usual plans can help you keep the spark alive.