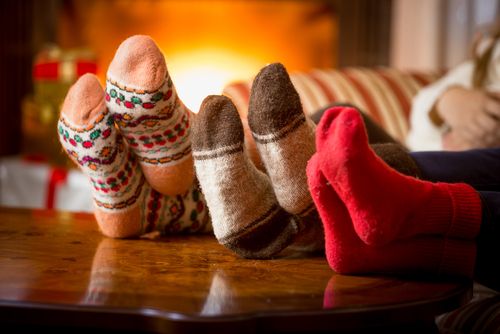 Many people have traditions for major holidays that are passed down from generation to generation. They know who's going to throw the best party on New Year's Eve, and they have a list of favorite menu items for the Independence Day picnic. Those who celebrate Christmas probably know how they are going to spend the day months in advance.
The night before Christmas can be as magical a time as the holiday itself, though. Here are some examples of festive things to do on Christmas Eve. You may even like them enough to start a new tradition that you enjoy every year.
Single Adults
Holidays can be particularly lonely for single people, which is all the more reason to plan something fun to do. Consider inviting friends and family members over for a potluck. You all get to share a delicious meal without all the stress of cooking everything yourself. Encourage people to wear their coziest pajamas or their favorite ugly Christmas sweater. If you want an excuse to wear the party clothes hanging in your closet, include instructions to wear dressier attire to your special gathering.
Some people may balk at the idea of adding one more social event to their calendar. You can still make the night special even if you plan to spend it alone. Bake your favorite cookies and watch a movie you haven't seen in a long time. Wait until Christmas Eve to decorate your tree, or drive around and look at the lights in your neighborhood. One of the best ways to spend any night is with a cup of tea and a good book, so why not set the evening aside for some quiet reading time?
Families With Children
Holidays with children are typically joyful occasions. Kids often bring a sense of wonder and excitement to every gathering. There are many traditions that are fun to embrace if you have children in the house:
Prepare for Santa by leaving out milk and cookies and listening for sleighbells at the window (or track him online!).
Celebrate Jolabokaflod with the gift of a new book and a quiet night for everyone.
Make popcorn or another snack and watch Christmas movies together.
Work on a Christmas puzzle or craft together.
There are many other things you can do to make the night before Christmas special. No matter what you decide to do, having fun together as a family will be the memory that your children take with them through the years.
Organizations
If you run a nonprofit organization, work at a group home or serve as a leader in your church, Christmas Eve provides an opportunity to spread some extra love around. Anything you can do with friends or family can be turned into a festive event that people who may not have anywhere else to go can enjoy. Host a gathering and share a meal with others to show them you see them and you care.
Caroling is another fun group activity for Christmas Eve. The best part is that it takes almost no preparation. Print out a few song sheets (or grab a stack of hymnals), and you're ready to go! You can sing outside the homes of homebound members of your church, or you can visit assisted living facilities, hospitals or other institutions to bring people a dose of Christmas cheer.
Christmas Day is often the focus of the holiday celebration, but it's not the only time you can be jolly. Regardless of how you choose to spend your Christmas Eve, the joy of the season is the essential element. By creating a new tradition, you give yourself and everyone involved something to look forward to every year.