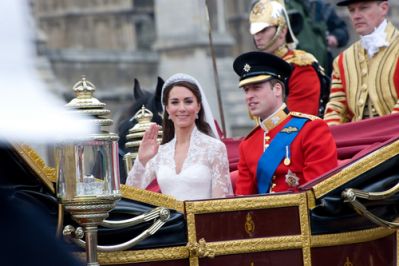 Every bride wants to believe that her wedding gown is the most beautiful one ever crafted. However, since cost is a major factor in the selection, the vast majority of us don't get to have that beautiful ensemble that winds up on magazine covers. Some lucky — and rich — women do, however, get the chance to have a truly iconic wedding dress that people talk about for decades. Here, in reverse chronological order, are four such gowns and the classy women who made our mouths water when they wore them.
1. Kim Kardashian and Kanye West — 2014
When media personality Kim Kardashian married rapper Kanye West in 2014, it was her third marriage and his first. The bride nevertheless chose to wear classic white for her wedding. But in true Kardashian media-grabbing style, the dress, designed by Riccardo Tisci of Givenchy, was what one news outlet dubbed "jaw dropping." It looked quite traditional from the front with its modestly high scooped neckline, intricate long sleeves of lace, and two diamond-shaped cutouts at each side of its waist, but oh la la, the back! As in, the dress didn't have one. The only thing holding it on at the waist was a thin white belt before a wide shallow V began the shirt at slightly above hip level.
2. Kate Middleton and Prince William — 2011
When Englishwoman Kate Middleton wed Prince William, heir to the British throne, in 2011, her exquisite wedding gown, designed by Sarah Burton, immediately launched imitations all over the world. Made of ivory satin with an appliquéd lace bodice and long sleeves, the dress featured a low V-shaped neckline and a full floor-length skirt that gracefully pooled around Kate's feet. Prince William was no slouch, either. He was resplendent in his military uniform featuring a scarlet-red tunic with a gold Nehru-style collar and large gold patches on the inside of each long-sleeved arm, all paired with black pants with red stripes going down the outside of each leg.
3. Grace Kelly and Prince Ranier III — 1956
When American movie star Grace Kelly married Prince Ranier III of Monaco in 1956, it was the wedding of the decade. Newspapers, magazines, and breaking TV news reports followed the fairy-tale romance from initial meeting to eventual wedding and then throughout the couple's long marriage. Designed by Academy Award–winning designer Helen Rose, creator of Kelly's costumes for the films High Society and The Swan, and constructed by Metro-Goldwyn-Mayer's wardrobe department, Princess Grace's elegant wedding gown was made out of satin and lace and featured seed pearl accents, rose point lace details, a fitted long-sleeved bodice and a flared skirt.
4. Jacqueline Bouvier and Senator John F. Kennedy — 1953
When socialite Jacqueline Bouvier married Senator John F. Kennedy of Massachusetts in 1953, the public paid little attention. After all, JFK was only a newly elected senator and few people had ever heard of Jacqueline Bouvier outside of New York society. Who knew that he would go on to become the 35th president of the United States and she would serve as one of this country's most sophisticated and cultured first ladies?
Known for her exquisite taste in everything, including her clothing, Jackie chose a bouffant wedding gown designed by African-American fashion designer Ann Lowe that contained nearly 50 feet of ivory silk taffeta and featured a wide V-neck neckline that went from cap sleeve to cap sleeve. Interestingly, Ms. Lowe never received credit as the gown's designer until after her death.
Wedding gown styles come and go, but somehow these unique dresses hold special places in our hearts. Whether simple, elaborate, long, short, white, eggshell, ivory, or silver gray, a wedding dress speaks to a bride's — and our — hopes and dreams on the day she marries the love of her life. No wonder we remember some of them more than half a century after the wedding.