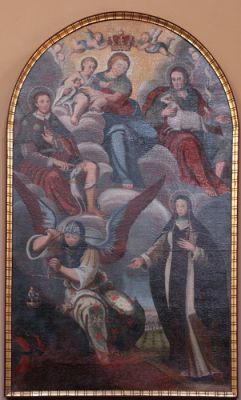 Take a trip into the history of the church by looking at some of the patron saints who have feast days in November.
Saint Agnes of Assisi
Most people are familiar with Agnes' older sister, Clare. Clare founded the Order of Saint Clare, often referred to as the Poor Clares. Agnes is one of the first abbesses of the order. Her feast day is November 16. Her father was dismayed when his daughters joined the church. Clare's uncle tried to take her home by force, but he was temporarily paralyzed. Agnes and Clare both followed St. Francis of Assisi. She was interred at the Basilica of St. Clare at Assisi. She is the patron saint of gardeners.
Saint Rose Philippine Duchesne
Saint Rose was born in France, but she spent the last half of her life in America teaching and serving people in the Midwest. She is the patron saint of the Diocese of Springfield-Cape Girardeau in Missouri. The Potawatomi named her "Woman-Who-Prays-Always." When Rose came to the United States, the bishop had nowhere for her to live and work. She worked hard to create a school for girls, even though she dealt with many hardships on the frontier.
Saint Catherine of Alexandria
Catherine lived in the first century for just 17 or 18 short years. She was the daughter of a prominent Egyptian governor. As such, she could devote herself to study. Legend has it that at the age of 14, she debated 50 of the best pagan philosophers of the time to refute her pro-Christian beliefs. She won the debate and converted some of the very people she was debating against. Four years later, she was martyred. She is the patron saint of unmarried girls, apologists, jurists and lawyers. Her feast day is November 24 or 25. A 2014 film, "Decline of an Empire," is based on her story.
Gertrude the Great
Gertrude lived in the 13th century. At the young age of four, she entered a monastery school. Some believe that her parents offered her to the church, while other historians think she was an orphan. Either way, she became highly educated in many different subjects. When she 25, she began to experience visions. She would become a great mystic during her time. Some of her writings have survived and are still regarded as important in today's world.
She is the patron saint of the West Indies. Her feast day is celebrated on November 16, which is thought to be the day of her death. Interestingly, she was never formally canonized, but it still regarded as a saint in the Catholic Church, demonstrating her influence and legacy.
Saint Margaret of Scotland
Margaret was a pious Roman Catholic, but she was also Scottish royalty. She and her husband, King Malcolm III, had eight children. Three of her sons ruled Scotland in succession after Malcolm died. One of her daughters married King Henry I of England, making her Queen Consort of England. Margaret is considered to have instigated religious reform in the Church of Scotland, influencing her husband and children to be honorable rulers who relied on biblical authority. Malcolm often consulted her on state matters, and he left many of the domestic matters to her. She lived during the 11th century, but she was truly liberated during her time.
Margaret also served the poor and orphans, interceded for religious prisoners and established religious sites in Scotland. Her private life was devoted to prayer and reading. Pope Innocent IV canonized Margaret in recognition of her life of holiness. Her feast day was originally on June 10, but in 1969, it was moved to November 16. She is recognized as the patron saint of Scotland and Anglo-Scottish relations.