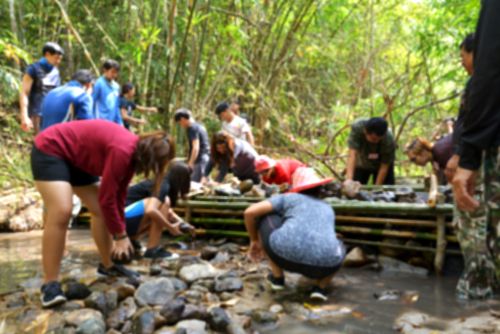 Summer is a season in which people often have extra time to play and try new things. Individuals and families often come up with lists of things they'd like to do over the course of the summer, but many times these plans mean that their attendance at services wanes. A churchwide summer bucket list is a fun way to keep members engaged during months when participation tends to lag. Here are some tips for creating a great list that appeals to your congregation.
Tap Into Existing Groups
The best place to start is with the committees and social groups that your church already has. Ask the leaders of each group to come up with a summer project or challenge. This not only gives the members of those teams a reason to stay connected but also may generate interest for others who would like to join them.
Your book club may host a summer reading program for kids or partner with the local library to put on programs. The finance committee can brainstorm fundraiser ideas that actually boost giving during the months that donations tend to be sparse. The more freedom you can give each group, the more creative their solutions are likely to be.
Take Care of the Property
Summer is a great time to get some work done on the building. The weather tends to be more consistently clear, which means people are more willing to work outside. Make a wish list of small repairs or updates that don't necessarily require professional intervention:
Painting
Landscaping
Deep cleaning
Organizing
In addition to getting a lot of work done for the cost of supplies, this is a great way to find out some of the hidden talents you have in your community. The master gardener with the green thumb may be thrilled to design and plant the flower beds in front of the building. A contractor may be able to advise you about where to get the best price on lumber needed to improve the wheelchair ramp. Most people don't know their knowledge and skills are needed until you make a specific request. A summer bucket list often reveals new ways to serve.
Reach Out to the Community
Compiling a list of things you want the church to do over the summer is a good opportunity to look at the specific needs that come with the season in your city. Your outreach team can start by contacting community partners for information. Then they can compile a list of service projects or drives and ask for volunteers to lead them.
Two ongoing concerns that pose extra challenges in most cities during the summer are food insecurity and homelessness. Schoolchildren often have some resources during the academic year for getting wholesome meals, but when they are on a break from school, their families' needs may become more pressing. While sunscreen and bottled water are gratefully accepted donations all year at homeless shelters, they are especially vital in the summertime when the sun's rays are stronger and there is a higher threat of dehydration for those who spend a lot of time outside. Tapping into the summer needs of people in your city shows that there is no off-season when it comes to the love of God.
It makes sense to take some time off from your regular programs during the summer. After all, everyone needs a break from the norm occasionally. That doesn't mean you have to stop doing good things altogether. Creating a summer bucket list for your church provides a short-term commitment that gives members a reason to think twice about disappearing for a few months. It provides opportunities for service when some of them may have more time on their hands to help out.