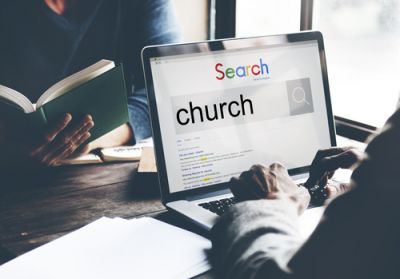 In December, the New York Times printed an article in the Sunday Review called "Internet Church Isn't Church." The author makes the point that coming together with others is the point of going to services. Online churches are an isolating experience, and you likely can't get the same things from an app that you can get when you attend in person.
The Times published a rebuttal about a week later from the leaders of Churchome Global, an online church. Churchome Global has 518 groups of people in 80 cities around the world. People are engaging with their organization online through a mobile app. The leaders contend that a church isn't a physical building but a place where people go for emotional and spiritual support, and that should be accessed 24/7/365 any way and anywhere.
Online Churches Aren't New
Many denominational churches stream services for people who are homebound or traveling. But the real growth of online versions is coming from non-denominational bodies. A blog article from Capterra, an online software company, analyzed "The 5 Biggest Online Churches" in 2017.
Life.Church, which is physically based in a suburb of Oklahoma City, Oklahoma, has 27 physical locations across eight states. Its online campus is called ChurchOnline. It began in 1996 in a garage, but it has grown to be one of the biggest churches in the United States, and its online chapter began about 11 years ago. Today, its average weekly attendance is 70,000. On its website, it's estimated that it reaches over 300,000 people each week. There are over 80 unique services every week that include worship, music and teaching.
Saddleback Church ranks number four on the list of the biggest online churches. It has physical campuses around the world, in places such as Berlin, Hong Kong and Buenos Aires. It's headquartered in Lake Forest, California. Rick Warren is the senior pastor, and the online campus is led by a dedicated pastor. Visitors can live-stream services and join online groups to bond with community. Online members will find an extensive website to help them in their walk.
The other three churches that round out the list include Church of the Highlands, Birmingham, Alabama; NorthPoint Community Church, Alpharetta, Georgia; and Calvary Chapel Fort Lauderdale in Florida. These churches are revolutionizing how people think about and attend services. They are thriving, largely due to their ability to rethink the institution known as church.
Are Online Churches the Future?
Christianity Today and Relevant Magazine have both asked whether an online church is a real church. They seem to believe that a church needs a physical building. Your phone cannot be considered a substitute – at least that's the argument.
But consider how much of your life is already online. Who ever guessed that banking would be so accessible through a phone? What single hasn't attempted to find a spouse through a dating app? And how many have been successful in connecting with another human being so much so that they want to spend the rest of their lives together?
How is church different? The newer generations use technology differently than anyone ever imagined. It should be expected that faith, religion and spirituality would be impacted. These technologies are beneficial in many ways. Homebound people are more connected to the church community through online services. Social media has the ability to keep people in touch with each other when they're traveling or have to move.
Maybe online church isn't right for you. But don't shame those who are using it to grow in their spirituality and faith. Let's embrace the technology and use it to reach out.