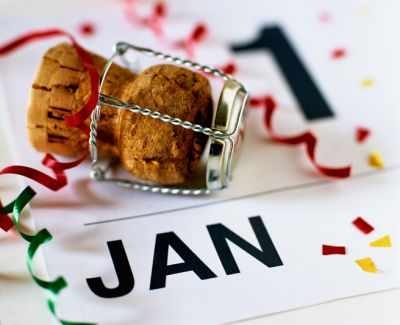 New Year's Day might be centered around football, parades and parties, but there's much more to the day than the Rose Bowl and Hoppin' John. Although these saints might not be some of the most famous, they do have the honor of having their feast day on the first day of the New Year. Learn more about these patron saints who took care of the poor, changed church liturgy or became martyrs.
Saint Adalard of Corbie
Adalard is a cousin of Charlemagne, or Charles I. Although Adalard's family was nobility, he entered the monastery when he was 20. He served as a tutor to Bernard of Italy, who became the King of the Lombards. Adalard moved in regal circles, but always maintained his passion for people and God. He is the patron saint of many churches in France, but his real legacy was in erecting hospitals for the people under his care. He died on January 1 in 827. Pope John XIX canonized Adalard about 200 years after his death.
Saint Basil the Great
Basil is a saint who cared for the poor and underprivileged. He lived during the third century, at a time of great persecution in the church. His family was quite wealthy and well-known for piety, and Basil's maternal grandmother was a Christian martyr. As a priest, Basil made many contributions to Christian liturgy. January 1 is named St. Basil's Day in the Greek tradition. St. Basil brings gifts to children, much like Santa Claus or St. Nicholas.
Saint Joseph Mary Tomasi
Tomasi is the patron saint of Catholic liturgy, because, as a tribute to his legacy, his writings helped inspire reforms in the liturgy of the church in the 20th century. He was born in the 18th century. His father was the first Prince of Lampedusa—Sicilian royalty. Although Tomasi was destined to the royal court, he aspired to be part of God's kingdom from a very early age. He eventually gained permission from his father to become a priest. Pope Clement consulted Tomasi before accepting the papacy. Tomasi was well-known for his sanctity and piousness. He was canonized in 1986 by Pope John Paul II, more than 250 years after his death.
Saint Zygmunt Gorazdowski
Gorazdowski was born in Poland in 1845. As a child, he suffered from tuberculosis, a common ailment that was at its peak in Europe during this time. The diseases hindered his activities at various times throughout his life, but he carried on. Gorazdowski was the son of a politician. He started his college education studying law, but felt a call to the priesthood and changed direction. In his community, Gorazdowski was known as the "father of the poor and priest of the homeless." He set up many homes for widows and orphans during his tenure. Over his four decades of service, he founded a soup kitchen for the poor, a hospital for ill patients and an institute for poor seminarians. Pope Benedict XVI canonized this saint in 2005. Pope John Paul II approved the second miracle for sainthood, but was too ill to formalize a date for canonization.
Saint Telemachus
Historians don't know the exact date of Telemachus' birth, but it was in the fourth century somewhere in the Eastern Roman Empire. It's thought that Telemachus tried to stop a fight between gladiators in Rome at the Colosseum, since one of the gladiators almost always perished in these fights. He was stoned to death by the crowd, but Emperor Honorius respected Telemachus' martyrdom and ordered a ban on gladiatorial fights. Telemachus died on January 1. The year is questionable, as some reports put it at 401, while others believe it occurred in 391. The last gladiatorial fight occurred in 404.