Universal Life Church minister to perform many December weddings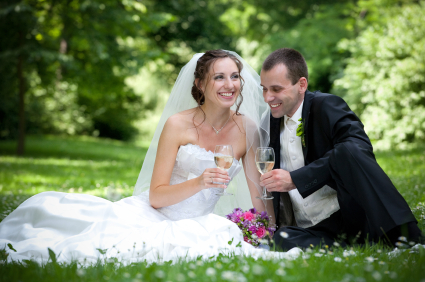 Pamela Magnuson, a Universal Life Church Ministries minister since June 2011, is preparing for a busy holiday wedding season at her Mount Prospect, Ill. home and wedding venue, Pine Manor. This building, constructed in 1928 in the Dutch Colonial style, serves as the location for many ceremonies year round, from weddings to civil unions, to handfasting ceremonies.
A Pagan and former advertising agency employee, Magnuson decided after working at a wedding venue that couples should have access to inexpensive and meaningful alternatives to the costly wedding traditions popular in America. An ordination from the Universal Life Church afforded her the opportunity to do just that; Magnuson's first experience performing weddings for couples happened on Nov. 11, 2011, when she performed three in a single day. Magnuson has not stopped performing weddings for loving couples since that date; she has solemnized over 150 marriages in 2012 alone.
A model Universal Life Church minister
Magnuson takes the Universal Life Church mantra "We are all children of the same universe" seriously. She performs weddings for people of every faith system, even if they have no faith at all. Unlike the pastors of many conventional churches, Magnuson will gladly perform wedding and civil union ceremonies for members of the LGBT community in Illinois.
Stating that she believes all people are fundamentally similar, despite whatever divides may exist between us, Magnuson expressed that she is capable of giving meaningful, touching weddings to couples and can weave wedding traditions into the same ceremony.
Like Magnuson, the Universal Life Church is a firm believer in the equal treatment of all people - including religious minorities and members of the LGBT community. Her ordination demonstrates our active inclusion of the practitioners of alternative belief systems (Paganism, in this case). While some branches of the Universal Life Church refuse to ordain anyone who does not profess to believe in Christian teachings, the ULC Ministries proudly incorporates them; we believe that learning about faith systems other than your own will be a boon to your own spirituality and will ultimately make you a better person.
The Universal Life Church Ministries salutes Pamela Magnuson for the work she is doing as a wedding officiant and wish her the best of luck for all the ceremonies she is set to perform in the upcoming weeks. If you are engaged and looking to get married in the Chicago area, feel free to contact Rev. Magnuson via email or phone (847-873-7463). Learn more about Pine Manor by visiting its website.