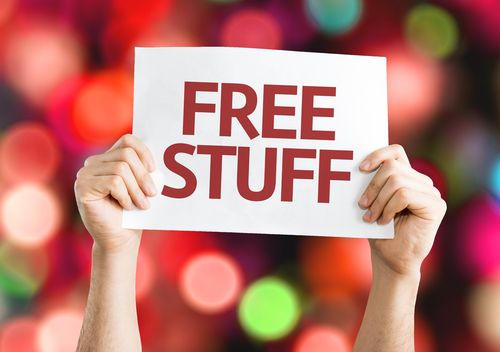 Many neighborhoods have community Facebook groups to buy, sell or trade unwanted items. The Buy Nothing Project takes this concept a step further, supporting communities that offer everything for free to other locals in the spirit of a gift economy. If you or other members of your church are looking for ways to share with others out of your abundance, joining a Buy Nothing group may be appealing to you.
Free Stuff
One of the main benefits of a Buy Nothing group is having access to free, gently used items that someone near you no longer wants. Before you go to the store to put a new vacuum on the credit card, post in the group to see if anyone has one they want to give away. Even if no one does, someone near you may have one you can borrow so that you don't have to worry about purchasing it until your next payday.
Easy Rehoming
Likewise, if you have things you want to get rid of, you can offer them to the people in your Buy Nothing group. Rather than gathering boxes of items that sit in storage for long periods of time, waiting for the next time you make a trip to a donation site, you can simply post items in the group and arrange a pick-up or drop-off time that is mutually convenient for you and the recipient. Many group members also have Little Free Libraries and mini food pantries outside their homes so that people can drop off or pick up these items as needed. As long as actions don't violate the rules of the local group, this is a really easy way to find a good home for the things in your donation pile.
Community Support
One of the common benefits of a gift economy is the inevitable increase in members' sense of community. A Buy Nothing group is a great place to facilitate this effect. You may not have anything extra around your house that needs a new home but want to share your free time with your neighbors. There are three main ways that members of these groups can offer community support:
Gifts of self - Any act of service that one member can perform for another (e.g., babysitting, lawn care, ride to the market, etc.)
Gifts of talent - Anything one member can teach to another (e.g., tutoring, cooking, music lessons, etc.)
Gifts of time - Any offer to spend time with or engage in a shared activity with another member (e.g., exercising, meeting for coffee, arranging playdates, etc.)
There is more to life than the things you own. Your engagement in a Buy Nothing group can extend to offers of friendship and service as well.
Environmental Responsibility
Being an active member of a Buy Nothing group is a great way to protect the environment. When you donate to an organization, you never know where the items you give actually go. If the nonprofit already has a surplus of similar items, they may simply be thrown away and end up in a landfill, which was likely the outcome you were trying to avoid by donating. However, when you rehome something to someone who shares your ecological values and specifically states he or she wants it, you can be more confident that it won't go in the trash until it's completely worn out.
It isn't always easy to know how to reach out to the people in your neighborhood and surrounding areas. You may decide to join a Buy Nothing group to get rid of things you no longer need and end up making quite a few new friends who live near you in the process.