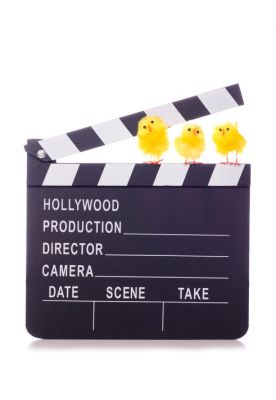 Christmas might be the ultimate holiday movie season, but Easter isn't far behind. This year, Easter falls on April Fools' Day which might seem a long way off, but it will be here before you know it. To get in the holiday spirit, we're offering a list of Easter movies. Some are fun. Most are thought-provoking. A couple might be hard to track down, even in this digital age. But they're worth seeing and discussing.
The Greatest Story Ever Told (1965)
This epic film originated as a radio series in the late 1940s. After its adaptation into a novel, the film rights were purchased, but no one made the movie until over a decade later. It took two years to write the screenplay, which shouldn't be surprising due to the scope of the story. Although it earned six Academy nominations, it didn't win any Oscars. Some critics called it a bore, but the list of cameo roles makes this movie one that you should see. When you know the story of Jesus, you know how the movie ends. It's hard to be surprised at the Resurrection.
The Robe (1953)
This Bible epic won Academy Awards for Best Costume Design and Best Art Direction. Richard Burton plays a Roman military tribune who is loosely responsible for Jesus' crucifixion. Burton's character wins the robe worn by Jesus at the crucifixion, which causes him to relive the event, which haunts him. Watch this movie for the cinematography and costuming, not for its historical accuracy.
The Passion of the Christ (2004)
This movie has been in the news lately, due to reports of Jim Caviezel reprising his role as Jesus in the sequel. When "The Passion" was released, it was criticized for its violence and antisemitism, but it does give a unique account of the last 12 hours of Jesus' life. Mel Gibson, director and co-writer, relied on the biblical account of the story but also drew on other historical records in his research.
Risen (2016)
This movie looks at the story of a Roman soldier who searches for Christ's body following the resurrection. It is a different take on the story told in "The Passion," and it is rather violent and gory. Even though Richard Roeper wasn't a fan of Joseph Fiennes' performance, others gave Fiennes rave reviews. The movie should open dialogue about different cultures and how each one responded to Jesus' resurrection.
Easter Parade (1948)
This movie is more light-hearted than the first three on the list. Fred Astaire and Judy Garland star in this musical set in 1912. Gene Kelly should have starred in the movie, but due to a broken ankle he couldn't meet the production schedule. Astaire was coaxed out of retirement for this delightful romance that culminates at the Easter parade in New York City. It's a fun movie that the whole family can enjoy on a Sunday afternoon.
Jesus Christ Superstar (1973)
This musical focuses more on the relationship between Judas and Jesus before the crucifixion, rather than just the events of Jesus' life. It was filmed in Israel. The cinematography is stunning. Some religious groups have criticized the film, saying it was anti-Semitic and blasphemous in its portrayal of Jesus. Seeing Jesus through the eyes of Judas, who believed him to be a "mere human being," gives us a different perspective of the man most of us believe to be above base interests. Tim Rice and Andrew Lloyd Webber were instrumental in creating this rock opera that is still highly successful, even 40 years after it opened on Broadway.
Rise of the Guardians (2012)
This computer-animated fantasy movie is not only about the Easter Bunny, who is voiced by Hugh Jackman, but includes all of our childhood heroes, including Tooth Fairy, Sandman and Santa Claus. It's a fun movie about trust, belief and working together.