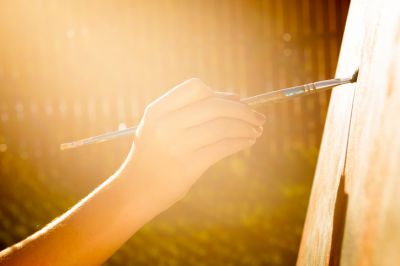 When you think about the Italian Renaissance art scene, the first names that come to mind are probably Leonardo da Vinci, Michelangelo or Raphael. Most of the paintings commissioned during the Renaissance period were for or by the Catholic Church. Large paintings were very common. The Last Supper measures 15-feet-1-inch high by 29-feet wide. Pictures of saints and the Madonna were in high demand.
Art was important to the people in the Renaissance. Many couldn't read, but they could understand the visual imagery of a painting. Spirituality was another important aspect to the life of the Renaissance families. Death was an ever-present threat, because of illness and political instability. Women were expected to marry and have as many children as possible.
There were few career paths for women, but one liberating place was the convent. Women who joined a convent did not have the same duties as their counterparts who were wives and mothers. Without having to go through childbirth, nuns often lived much longer and enjoyed many activities that would otherwise be unavailable to them.
A Nun-Artist
The first known female painter of the Renaissance is Sister Plautilla Nelli. She was born in 1524 into a wealthy family. Her father was a fabric merchant. Nelli became a nun at the tender age of 14. The nuns practiced devotional paintings and drawings to avoid laziness, a teaching of Savonarola, a Dominican priest who also inspired Nelli.
Sister Plautilla's convent had many nun-artists, most of whom were self-taught. Sister Plautilla was no exception. She "copied" works of Agnolo Bronzino, Andrea del Sarto and Fra Bartolomeo, whose drawings were later left to Sister Plautilla. Nelli copied many of the same subjects that her male contemporaries were painting, for example, the crucifixion, the ascension and a grieving Madonna.
Sister Plautilla produced many pieces during her lifetime, including large-scale paintings, drawings and book illustrations. Women typically produced miniature painting or small sculptures in terra cotta, but Sister Plautilla was able to work in many different mediums. Her work is considered very feminine, even when she painted the male figure. As a woman and especially a nun, she was prohibited from studying the male figure.
Nelli added much more emotion to her artwork than her influencers, which is another one of her characteristics. Her characters would have real tears and red eyes or other vivid signs of emotion. Her work is very moving and depicts women in religious settings in a way that men could not.
She only signed one work in her lifetime, a largescale painting of The Last Supper, which is currently undergoing restoration. This painting is significant for many reasons. Nelli was the first female artist to undertake a painting of this beloved spiritual subject. But not only that, she painted it in a scale that matched other famous paintings of the subject. In 2018, it's anticipated that her "Last Supper" will be on exhibit in the Santa Maria Novella Museum in Florence, Italy.
Well-Known in Her Time
Sister Plautilla is one of four women artists mentioned in "The Lives of the Most Excellent Painters, Sculptors, and Architects" by Giorgio Vasari. The book is a compilation of biographies of the most famous Renaissance artists. It is probably the most important book of art history of that time frame.
Many of Nelli's works are held by the Uffizi Gallery, which has restored many of her drawings using modern technology. One major exhibit just closed, but it's anticipated that there will be a renewed interest in her work next year when her "Last Supper" is opened for public viewing. The Uffizi holds one of the largest collections of Renaissance artwork in the world. We're fortunate that they have restored Nelli's artwork for generations to come.