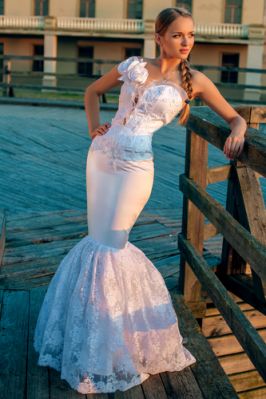 In Part I of this series, we talked about your choices when it comes to your wedding dress's neckline and sleeves. In Part II, we'll continue our discussion by talking about its waistline and overall silhouette.
Waistline Choices
Your wedding dress's waistline obviously should be one that flatters your body shape. Of course, if you're as thin as a high-fashion runway model, you can wear any style. If, however, you're like most of us real-life women, your wedding gown's waistline can make all the difference between a day of comfort and a day of being stuffed into the latest Victoria Secret's bulge-concealing undergarments. It can also make the difference between a day spent having fun and a day spent watching your grandmother, your husband's entire family, and all the friends and business associates your parents insisted you invite whispering and beginning to count on their fingers to try and figure out how far along that supposed baby bump puts you. Who needs that?
If your abdominal area is less than flat, your best waistline style choice for your wedding gown likely is an empire. This classic option, dating back to ancient Grecian times, isn't actually at your waist. Instead, it's underneath your bustline, and this style, by the way, also enhances your bust. From there, the dress's fabric drapes, falls, or otherwise flows downward to its hem.
Another great option for pudgy tummies is the basque. This one drops below your natural waistline and creates a V-shape in the front of the dress that is slimming in effect. Still another good choice is a no-waist waistline, sometimes called a princess style. While the gown's waist falls at about your own natural waistline, it's not tight. Instead, the gown's material and sewing style makes for a skimming shape rather than a hugging one.
If your figure is more or less hourglass, you'll look good in a drop-waist dress. Here the bodice descends to your mid-hips, beautifully sculpting all your curves.
Silhouette Choices
Silhouette refers to the overall shape of your wedding gown from its neckline to its hem. For instance, a ballgown silhouette represents the one worn by princesses, both real and the Disney animated ones, throughout time. The classic ballgown features a fitted bodice that poufs out right underneath the waist and falls into an ever-growing full skirt. Some skirts wind up being so full that you need to wear a hoop underneath them to maintain the flowing line.
An A-line silhouette, on the other hand, is a great choice if you love the idea of a ballgown but don't want to bother with a hoop and even more don't want to trip over all that fabric when you walk or dance. An A-line silhouette, as its name implies, literally looks like the capital letter A. It begins with a fitted bodice that then proceeds to gently flow out from the waist to the hem. Be aware that there's also a modified A-line that has an even gentler A shape with even less fabric at the bottom.
If you want your wedding gown to make a real statement, and your body shape can pull it off, consider a mermaid silhouette. This style dress fits quite tightly all the way to your knees, at which point it flounces out to the hem.
Don't forget that the length of your wedding gown also plays a big part in its overall silhouette. Here you have three basic choices: mini, tea-length, and floor-length. If your legs are really shapely, you may want a mini wedding dress that comes down to slightly above your knees. Tea-length is the middle-of-the-road length where the hemline hits you about mid-calf between your knees and ankles. Most truly classic wedding gowns, however, are floor-length, with or without an attached train for your wedding that comes off for your reception.
You have many options when choosing a wedding dress. Pick something you feel beautiful in and enjoy your special day!