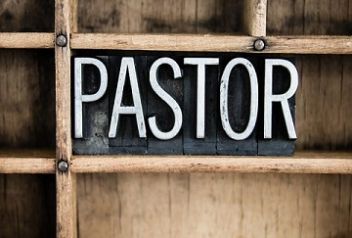 One of the hardest jobs is being a clergy. No, it's not physically stressful. Emotionally and spiritually, your pastor does so much for your church. Much of which you never see or hear about. Essentially, this man or woman is on call 24 hours a day, seven days a week. Although pastors do and should set boundaries, it's hard not to go to someone when a member in the church is in a car accident at 11 at night. Crises rarely happen during business hours. If your house burns down, you want your pastor to pray with you, forgetting that maybe he or she is at baseball game or family party. You've probably had your pastor come to you at various times, without complaint or reminders that time is limited. When was the last time you considered appreciating how much your pastor does for the families in the church?
October is celebrated in many churches as Pastor Appreciation Month. It's a time when pastors are remembered for the time they serve that they may not ever get compensated for. Most people who serve as clergy aren't in it to get rich. There's not a lot of room to advance. And most churches can't pay a huge salary to every person who serves in the ministry. There just isn't enough money. If you haven't thought about pastor appreciation, let's talk about what to do and what not to do.
Giving gifts to your pastor is always a good way to remember his or her service. Use some common sense and make sure you're really giving something helpful.
Don't Give Gifts Such As:
Bibles Books about leadership, or resources for bible study unless specifically requested Crosses or praying hands Ties or any type of clothing An empty card your pastor is worth something, even a $10 gift card to Starbucks or the local gas station, but hopefully, you'll be able to give more.
What Can You Give?
Gift cards to local restaurants enough to take the whole family out, at the very least, a spouse Gift cards for books Cash. Yes, this could seem impersonal, but who doesn't like having some extra money to do something special? Your pastor included. Take up an offering from the entire church. Those who can't give a lot can still contribute without feeling like their gift is meaningless or too small to matter. A card with a handwritten message of appreciation for the pastor and his or her family.
Don't Forget About Your Pastor Over the Next Year
Your pastor needs to be remembered throughout the year. No, you don't need to give gifts each month. What you can do is much more difficult. Make sure your pastor has time for the family. Honor the boundaries that have been set. Give up feeling angry if the pastor can't come to you on a weekend or weeknight because of other duties. If you serve on a committee in the church, follow the pastor's lead and offer support for the programs that are needed in the church.
Give your pastor a salary that honors the time and commitment expected. A lot of clergy have studied for years and have a great deal of education. Make sure your pastor is compensated appropriately for the level of schooling that was attained. Pray for the pastor. Imitate his or her faith. Be the congregation that respects the pastor and doesn't bicker over small issues. Get along with each other. Don't gossip. Come to church on Sunday and don't criticize the sermon. Your pastor will appreciate you and want to be present for your special events and needs when you work together to make the church a welcome place.