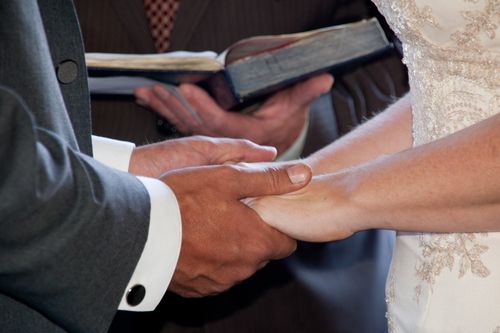 While many elements contribute to a wedding celebration, the ceremony is the main event. After all, you can't get legally married without it. And as with any ceremonial practice, words are needed to convey the meaning. Your wedding script serves that purpose, but it can also reflect your values and hopes. Knowing the basic elements of a script can help you select or compose one that fits your wedding day vision.
Collaborating on a Ceremony Script
Depending on your faith, you may choose from religious, nonreligious, traditional, or contemporary scripts. Some spiritual traditions don't leave much room for customization, either by the officiant or the couple. Others allow couples and officiants to tailor some words to their liking.
If the couple plans on customizing their ceremony, they should collaborate with their minister. Each party composes their own words or integrates appropriate language from spiritual traditions. For a typical order of service, the minister is responsible for the welcome remarks, declaration of intent, pronunciation, and closing statements. The couple can pen their own vows if desired.
Fortunately, ULC ministers have many resources to help craft a script. The ULC's "Weddings 101" guide and wedding script generator offer valuable information and pointers.
Your Ceremony Order
Before we delve into scripting a wedding, it's important to understand how your ceremony order and elements affect this process. Most weddings follow a typical order of service:
Processional
Welcome and opening remarks
Declaration of intent
Exchange of vows with rings
Pronunciation
Closing remarks
Recessional
Most of these elements will have accompanying words – the declaration of intent, for example. When this language is assembled, it forms the ceremony script. Keep in mind that ceremony order can vary somewhat in different faiths. For instance, Hindu weddings usually include saptapadi, the seven steps or vows taken by the couple as they walk encircling a sacred fire. To see some examples of ceremony order, check out the ULC's sample wedding scripts.
Welcome and Opening Remarks
The minister opens the ceremony with introductory remarks, welcoming the couple's guests and mentioning the ceremony's purpose. In some cases, this may be followed by a marriage blessing or affirmation of support. Textual readings can follow the opening remarks as well.
Declaration of Intent
As an important part of the ceremony script, the declaration of intent is where the minister asks the couple if they wish to marry each other. Most jurisdictions require this to make a marriage legal. Although the specific language can vary, the minister usually begins with something like "Will you take (name of partner) to be your spouse?" Most declarations ask each spouse if they will love and cherish the other through good times and bad. Each partner must respond with "yes" for the ceremony to continue.
Exchange of Vows and Rings
After the declaration of intent, the couple exchanges their vows. This portion of the wedding transcript can include vows borrowed from other sources or uniquely composed by the couple. Some language may echo the declaration of intent – for instance, "I take you to be my spouse."
Pronouncement of Marriage
Wedding pronouncements are typically one of the shortest parts of ceremony scripts. Officiants should state that they have the legal authority to solemnize marriages and officially announce their couples as wedded. If you're the minister, you could say something like, "By the power vested in me by the state of Ohio, I now pronounce you legally married."
The wedding ceremony celebrates a couple's love, but it's also witnessed by their community. Words are vital to this event. A well-written ceremony script not only solemnizes the marriage, but it also emphasizes a couple's love and communicates their commitment to friends and family. By including important elements, you ensure that the ceremony is both legally valid and meaningful.