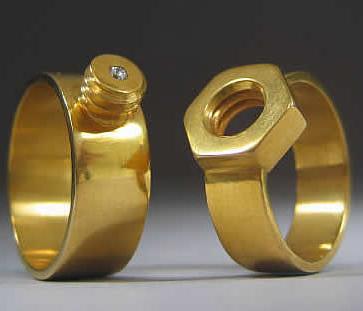 You found your soul mate, the one person you are destined to spend the rest of your life with. However, between planning your wedding, sending out invitations, deciding upon your cake, and other food, you still have one very important decision to make. You have to choose the rings that you and your future spouse will don on your fingers for the rest of your lives. If you are not a fan of traditional rings, jewelers are now offering unique and downright weird wedding rings for even the most unusual couples.
Fresh Styles for Eclectic Couples
Today's market is full of handcrafted ring sets that can be found at local jewelry shops or online. One of the benefits of purchasing non-traditional rings is the decrease in price. Pure gold or silver wedding bands complete with diamonds and stones, are going to cost you much more than a set of titanium or Kevlar bands. Here are a few of the new materials being used to craft exquisite but possibly just odd wedding rings:
Wood-lightweight and perfect for outdoor enthusiasts
Kevlar- a durable, synthetic fiber that is allergen free and scratch resistant
Titanium-very modern, fit for industrious couples
Carbon fiber-black, allergen free, and scratch resistant, creates a polished look
Reclaimed sterling silver and recycled metals-perfect for eco-conscious couples
These fresh materials have struck a chord with many modern day couples. With low costs and original designs, they are a great choice if you and your fiancé are looking to save a little cash while still finding rings that reflect your love and relationship.
Thematic Rings
Another new take on traditional rings has been the incorporation of thematic elements into wedding ring sets. With the popularity of vampire and magic, some jewelers are offering vampire engagement rings, complete with teeth and a center diamond. Tools and hardware supplies such as wrenches, washers, and screws are even coming into play with wedding rings. These may be perfect if you and your significant other enjoy spending hours together in your workshop. Another popular theme is the reflection of nature in ring sets. These rings include engravings of initials into replicated bark, as well as the use of natural materials.
The Ultimate Forever Ring
Since marriage is supposed to be a sign of eternal love and devotion, many couples are having their wedding rings tattooed on their fingers. Now that is a sign of true and forever love! While these tattooed rings lack the glimmer and shine of traditional rings, they are a pure reflection of a couples' personality and devotion to each other.
If you and your fiancé are ready to go ring shopping, why not check out some of these beautiful, fun and maybe weird wedding rings? You may just find the perfect piece to reflect your special story and love for each other.