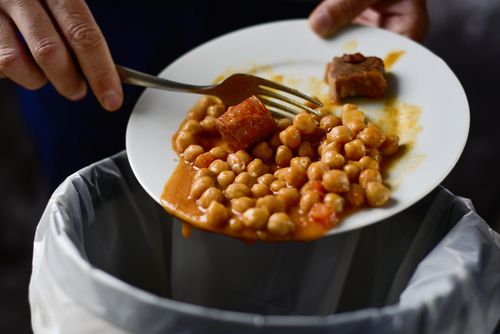 Guarding against wastefulness is a common practice among communities of faith. As climate change continues to threaten the safety and future of humanity, many leaders such as Pope Francis call on their religions' followers to embrace sustainability. Not only does food waste add to the alarming rate of landfill growth, it also drains energy resources. Churches can be a part of the solution rather than the ongoing problem by reducing the amount of food waste they produce and encouraging similar practices in their members' homes.
Common Practices
Getting your members into a sustainable mindset starts with implementing practical habits when you get together. Potlucks are a great way to build community, but they often result in excess. Rather than throw leftover food away, have reusable to-go containers available for those who want to make a plate to enjoy at a later meal. Alternatively, you can box food up to deliver to a local soup kitchen after every shared meal.
Seeing responsible food handling in action is only one piece of the puzzle. Host seminars on food shortages and the food deserts in your area. Encourage members to volunteer or donate to the organizations that are already working to address the problem. Form a team that can come up with a plan on how your congregation can be a more integral part of the solution.
Food Pantry
One way to raise awareness of how food waste affects supply is to volunteer at a food pantry. You might expect that an organization designed to get food to those in need would not have to deal with anything going to waste. However, donations of expired food can lead to thousands of pounds of canned and boxed goods going to the landfill from the distribution center every week. Seeing the need juxtaposed to the waste can be a sobering reminder of how much a workable bridge between scarcity and excess is needed.
The key to avoiding such a large volume of expired food is in getting it to people who need it before it goes bad. There are several entities with which churches can partner to help reduce food waste:
Schools
Markets
Restaurants
Your church can volunteer as the liaison between groups that produce large amounts of food and the pantries, shelters and soup kitchens that work directly with those in need. Ample Harvest can help you find food pantries in your area that are likely to be looking for donations. Start by building a relationship with the pantry staff, and you will learn how to meet the specific needs of the people in your city.
Community Garden
A community garden project combines both education and action. All members of the church can get hands-on experience learning about where the food they eat comes from and what it takes to make it grow. The more work they put into it, the more likely they are to be invested in making sure it is used and doesn't go to waste. A garden also gives you an opportunity to practice composting so that more of the food waste from the church's kitchen goes toward a productive purpose rather than in the trash. Whether you invite church members to tend their own family plots for fresh produce at home or donate the abundance to local soup kitchens or food pantries, a garden ensures that your faith community increases its awareness of your local food system.
Overcoming food waste is an essential practice for any organization that is concerned about climate change and wants to improve its overall sustainability. With a combination of education and experiences that help members become more aware of how their habits affect the world around them, your church can do its part to minimize harm.