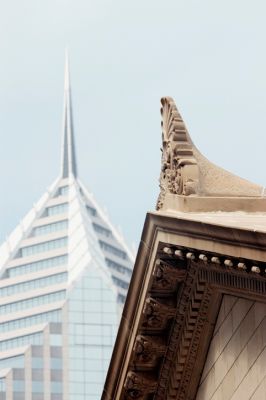 Chicago is the third most populous city in the United States. Although 71 percent of Chicagoans identify as Christian, the city is home to many different faiths. Many of the historic church buildings are open for tours. Throughout the year, you can find dozens of festivals that celebrate different cultures and faiths. Chicago also is home to many museums that preserve religious heritage and customs. If you're visiting the Windy City, make sure to save time to visit at least one of these places.
Baha'i House of Worship
This sacred space is located in Wilmette, IL, about 50 miles north of downtown Chicago. It's the oldest surviving Baha'I House of Worship in the world. The cornerstone was laid in 1912, but the temple was not dedicated until 1953. The architecture is unique and communicates Baha'I principles throughout the design. The property includes nine gardens with reflecting pools, round fountains, and flora of different colors and fragrances to enhance the religious experience. Visitors can choose to meditate in the sanctuary or just come to learn more about the Baha'I faith.
Spertus Institute for Jewish Learning and Leadership
The forward-thinking architecture of the building at this Jewish cultural center is worth examining. It's an environmentally sustainable facility with a window wall built from 726 pieces of glass. Inside, you'll find learning opportunities rooted in Jewish culture open to everyone. It often features special art exhibits in the library, but it also has a collection of roughly 15,000 arts and artifacts from Jewish cultures around the world.
Loyola University Museum of Art
Even though Loyola University is a Catholic research university, the Museum of Art on campus explores spiritual art from many different cultures and faiths. The Windows of Faith display represents five contemporary faiths. During the Christmas season, the museum offers a special holiday exhibit, "Art and Faith of the Crèche: The Collection of James and Emilia Govan." The collection includes over 500 creches from more than 100 countries. The museum's main collection of art includes works dating from 6500 BCE to current artists.
Museum of the Oriental Institute
The Oriental Institute Museum opened to the public in 1931. It's founder, James Henry Breasted, had the financial backing of John D. Rockefeller, Jr. According to its website, the mission is for it "to be the world's leading center for study of ancient Near Eastern civilizations." The museum houses nine separate galleries, each focusing on a different collection of antiquities from different cultures and time frames.
Gerber/Hart Library and Archives
This library isn't faith-based, but it does have a unique collection that is unparalleled. It houses the largest circulating collection of gay and lesbian titles in the United States. The library also features exhibits of LGBT+ history that are free to the public. (A donation is suggested.) You may find book discussions, game nights and special events happening when you visit.
Art Institute of Chicago
This museum has a vast collection of art and artifacts from around the world. It's collection of ancient and Byzantine art is significant to religious scholars. You'll also want to visit the Deering Family Galleries of Medieval and Renaissance Art, Arms and Armor, which includes items that outline the personal daily life of the period. It has many different galleries featuring historic and contemporary art.
The Field Museum
At this local museum, you can explore an ancient Egyptian tomb. One of its exhibits is a recreation of a mastaba tomb of a pharaoh. The museum has one of the largest collections of Egyptian mummies and artifacts related to every day life in that period. It also includes exhibitions related to Africa, dinosaurs, fossils and much more. You could spend hours, if not days, here learning about the world around you.