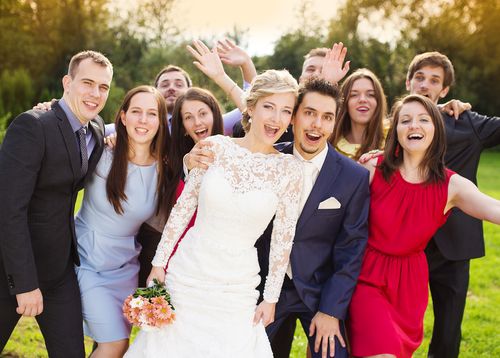 Many traditional weddings have two groups of attendants. The bridal party assists the female partner, and the groomsmen assist the male partner. While there is nothing inherently wrong with this if it's truly your preference, you may struggle with matching it to suit your relationship or your friend group. You and your partner may be the same gender, or your closest set of friends may not divide strictly down binary gender lines.
Having a wedding party that reflects your reality just makes sense. Here are some tips on working with a mixed-gender wedding party.
Brainstorm Options
One of the main benefits of having wedding attendants is that they are there to assist you with whatever you need on your special day. Their assistance doesn't have to wait until the main event, though. Loop them in from the beginning of your planning process, especially when it comes to mixed-gender wedding attire.
Start by giving your party general parameters for how you want your wedding to look. For example, present the color scheme and the level of formality of your event. This can spark a fruitful discussion in which you match the clothing they're comfortable in with your guidelines. They may have stunning ideas that never would have occurred to you and can take some of the pressure of the decision off your plate.
Rethink Gendered Terms
When you are not using gender as a factor when assigning roles, it doesn't make sense to keep the gendered terms in place. Additionally, referring to a group as a bridal party or the space where you get ready as the bridal suite when neither partner is a bride is simply inaccurate. Instead, use terms that reveal function without imposing gendered expectations:
Wedding party
Attendants
Staging area
Dressing room
Revise Roles
There are many ways that you and the people who are attending your wedding may have internalized the expected gender roles for the occasion. As you incorporate a more inclusive wedding party, though, you may find that many of these traditions don't really work for the specific group of people you have gathered to assist with your big day. Feel free to revise roles that don't serve your larger vision.
Your wedding party can process one by one or in same-sex pairs. In fact, there doesn't really have to be a procession at all. Anyone can give toasts, and the people assisting you and your partner in your respective dressing rooms should be the people you each trust the most to do the job right, regardless of gender. Finally, the single guests will likely be relieved if you leave the bouquet and garter toss completely out of the reception agenda.
Join Forces 
Wedding planning often segregates men and women for a variety of events, but there's no need to do this, especially if both of your friend groups are of mixed genders. One of the benefits of having your friends as your attendants is that you already know what you enjoy doing together, so it should be pretty easy to plan fun outings that everyone can enjoy. Don't overthink it, and it will work out just fine. 
You may even find that you have more fun at showers and other preliminary festivities if you enjoy them together instead of regaling each other with tales about them later. Joining forces by including both partners' wedding parties at each event is especially practical if you have a lot of friends in common. If the idea of a traditional bachelorette or bachelor party doesn't appeal to you, try having one big party that everyone is invited to.
Taking gender out of the equation when choosing your wedding party can open you up to new ideas and traditions. You may be amazed at how much you can customize every aspect of your wedding to include as many loved ones as possible.