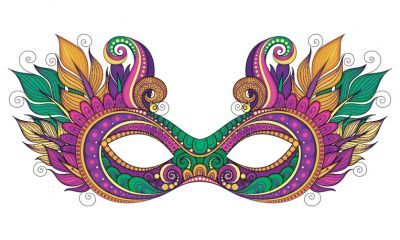 Mardi Gras, Carnival, Shrove Tuesday or Fat Tuesday: whatever you call it, it's one of the biggest parties of the year. Practically every culture has some kind of celebration before Lent. And while it seems as if the festivities are a way to party and get wild, there actually is a purpose to the celebrations. Mardi Gras has its roots in Christian traditions.
Why Is It Called Shrove Tuesday?
The word "shrove" comes from the word "shrive," which means to absolve. Shrove Tuesday is the day before Ash Wednesday, which marks the Lenten season. During the Reformation, parishioners would go to their confessor before Lent and confess their bad deeds and sins. The confessor would then give the parishioner penance to do during Lent.
The night before Ash Wednesday, the house had to be cleared out of luxurious foods, such as butter, fat, sugar and eggs. Christians would turn those items into pancakes to use them up. Over time, the day became known as Pancake Tuesday. Almost every culture makes some kind of rich pastries for Shrove Tuesday, whether you call them pancakes, malasadas (Portuguese fried dough) or king cake, the idea is the same.
Shrove Tuesday turned into Carnival because children would dress up in costumes and parade through the streets of their town in celebration. Traditionally, it would be the last time people could dress up and party before Lent. There would be no parties during the next six weeks, until Easter. This revelry turned into what we know today as Mardi Gras.
The Best Places to Celebrate Mardi Gras
Carnival is more important in Catholic and Anglican countries, but it's not limited to only those countries. Brazil might be the most famous for its Carnival season. Many tourists come to Brazil for their parades and celebrations before Lent. It's probably one of the most interesting places to enjoy Mardi Gras.
France, a traditionally Catholic country, has many Carnival parades and celebrations throughout its towns. Crepes, waffles and beignets are prepared for your indulgence. Nice, Paris and Dunkirk are a few of the major celebrations. You'll want to bring your fancy hats, elaborate masks and makeup to get dressed up for the parade through the streets.
Of course, if you live in the United States, you know that New Orleans has one of the largest Mardi Gras celebrations. Almost every major city in Louisiana has their own Mardi Gras celebration, such as Shreveport, Baton Rouge, Lafayette and Lake Charles. These parades may not garnish the same number of celebrants as New Orleans, but they are well-attended.
But there are many other places to celebrate Mardi Gras. In Mobile, Alabama, the day is an official state holiday. Mobile has one of the oldest organized celebrations in the US. Demopolis, a city founded by French expatriates, has a traditional Mardi Gras ball.
For a Polish-style celebration, head to Detroit, Michigan, for Shrove Tuesday. Although the city was settled by French-Catholics, it's had a recent influx of Polish immigrants. Poland celebrates what is called "Packzi Day." Packzi are a deep-fried pastry with a sweet filling. The festivities might start as early as the Thursday before Ash Wednesday, instead of just one day before.
Galveston, Texas, has the largest Mardi Gras celebration in Texas. It's estimated that it attracts up to 200,000 people. More than 3 million beads will be thrown. Even after all the devastation of the hurricanes in 2017, the party goes on.
Celebrate Mardi Gras
Remember the heritage of Mardi Gras while you're partying. Even if you don't celebrate Lent, understanding the history of Mardi Gras can help you understand why it's such a huge festival for people all around the world.