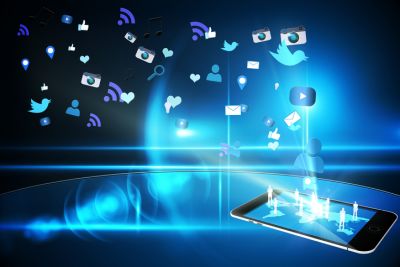 Many Americans use their smartphones for games and leisure, never taking advantage of the apps that are available for personal growth and development. Instead of staring at Facebook (or some other social media site) for hours on end, put your phone to use to reach your 2018 goals. Here are 10 faith-based apps that will take your spirituality to new heights.
Unless noted, these apps are available on both Android and iOS platforms.
YouVersion Bible App
If you haven't heard of this app, it's one to check out. It's a free Bible, but so much more. You get multiple versions of the Bible, available for download or not. Over 1,100 languages are supported. The app has resources for reading through the Bible and ways to find scripture on different topics. It's a must-have app for anyone who wants scripture at their fingertips.
ConZentrate:Om Meditation
If you have a hard time focusing during meditation or prayer, ConZentrate might be the app you need. You get visual and auditory cues to help you stay on track during spiritual, contemplative moments.
My Life Organized
This to-do list lets you dump your thoughts into an app and come back to deal with them later. You can outline and create next steps to help you get on target for meeting your spiritual goals (and any other goals), and you can sync across multiple platforms.
Hay House Radio
This online app calls itself "radio for your soul." It offers programs about spirituality, meditation, empowerment and affirmations, 24/7, right on your phone. Get an inspirational speech from some of the leading authorities in motivation when you need it.
Gratitude Journal
According to this app, you can rewire your brain in just three weeks of five minutes of writing every day. Journal what you are thankful for and you'll begin to be less stressed and more thoughtful about your life. You should sleep better and be ready to tackle whatever life throws at you when you focus on gratitude.
Kiva
This app is a helping hand for others around the world. For as little as $25 per month, you can automatically support an entrepreneur somewhere around the world. Spirituality includes helping others, and this app gives you the opportunity to make a difference.
Matthew Henry's Concise Commentary on the Whole Bible
Matthew Henry's "concise commentary" is anything but. It's actually a pretty lengthy text of practical applications and sensible understandings of the Bible. Henry was a Nonconformist pastor in England in the early 18th century who is well known for his theological studies. This app is a great way to read another point-of-view on scripture.
ScriptureTyper
If one of your goals is memorize scripture, then you'll appreciate this app. You can import a verse from 10 different translations. Record the verse and play it back. Review your progress with flash cards in the app. It makes learning scripture more interesting, fun and effective. There's even a drawing function for people who are visual learners.
Spirit Junkie
Wake up with a new affirmation every day with this app from bestselling author and speaker Gabby Bernstein. Share these quotes with your friends on social media or go back and review previous affirmations.
Worry Box
Unfortunately, this app is only available in the GooglePlay store, but it's a wonderful app if you constantly deal with worry and anxiety. You identify what you are actually worrying about and find ways to think differently about them. Whether you're worrying about what you can't control or things that haven't happened, you can refocus your energies into changing what you can. The app even has relaxing audio that will help you manage stress more effectively.