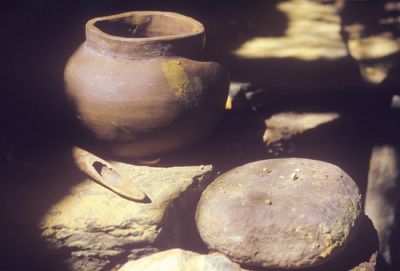 Oklahoma has so many places to explore Native American culture that it will take two posts to get through them all. Here are more sites in Oklahoma that are dedicated to the native people of the Americas.
Spiro Mounds Archaeological Center, Spiro
This prehistoric Native American site is the only one open to the public. It's estimated that the Spiro Mounds date from 850 and 1450 AD. The site was a seat of Mississippian culture, possibily one of the most important cultural centers of the region before the European settlers came to America. Many art and artifacts have been discovered from the Craig Mound, a burial site within the site.
Five Civilized Tribes Museum, Muskogee
Muskogee, OK, is another city with multiple heritage and cultural sites. One of the top places is the Five Civilized Tribes Museums, which focuses on the art, culture and history of the Creek, Choctaw, Chickasaw, Cherokee and Seminole Nations. It's housed in the historic Union Indian Agency building, built in 1875. The exhibits are rotated quite frequently, but feature traditional art and contemporary artists.
Gilcrease Musuem, Tulsa
The art museum has one of the most comprehensive collections of Native American art, which showcases tribal culture through artifacts and art. You'll find Navaho rugs, finely crafted jewelry and intricate beadwork from renowned and unknown native artists. Starting in July, the museum will be celebrating T. C. Cannon, an artist considered to be one of the most influential Native American artists of the 20th century.
Southern Plains Indian Museum, Anadarko
This museum features Native Americans from the Kiowa, Comanche, Southern Cheyenne, Southern Arapaho and Wichita Nations. You'll find historic clothing, dolls, weapons and more in the three galleries that focus on authentic art and culture. One current exhibit features graphite illustrations of Ryan Silverhorn, a member of the Crow Tribe of Montana who is currently residing in Oklahoma.
Comanche National Museum and Cultural Center, Lawton
You'll get a glimpse into the history and culture of Comanche people at this southwest Oklahoma museum that is home to fine art, traveling exhibits and a collection of cultural objects that are centuries old. This museum has a special exhibit dedicated to the "Code Talkers" of World War II. Seventeen Comanche men used their language to help defeat Hitler's army. The Comanche people have given so much to the culture of Oklahoma and the United States.
Museum of the Great Plains, Lawton, OK
This museum features hands-on activities for kids and adults, but it's all about the Great Plains tribes in Oklahoma. The exhibits are varied, from sitting through a simulated tornado to looking at bison guts or digging up a mammoth. Go outdoors and explore a historic fort or schoolhouse. Enjoy contemporary Native American artists.
Chickasaw Council House Museum, Tishomingo
This museum has an extensive collection of art and artifacts of the Chickasaw people. It features pottery, jewelry, artwork and beadwork from Chickasaw artists. It's a historical place full of wonder and information about the Chickasaw Nation.
Apache Historical Museum, Apache
This turn-of-the-century structure once housed the Apache State Bank but is now home to the Apache Historical Society Museum. It features a collection of items from local history, photographs, medical and dental equipment, furniture, and clothing from Apache citizens. It also has a Native American art gallery.
Chisholm Trail Museum, Kingfisher
This small museum has a new exhibit titled, "Bridging the Chisholm Trail Through Indian Territory." Ranchers drove cattle from Texas to Kansas on the Chisholm Trail post–Civil War. With this new exhibit, visitors can see the trail through the lens of the Native Americans and Indian Territory. It features maps and displays of the area, barbed wire pieces of the late nineteenth century and a diorama of a scene along the Cimarron River. Kids can touch bison horns and hair in the hands-on section.