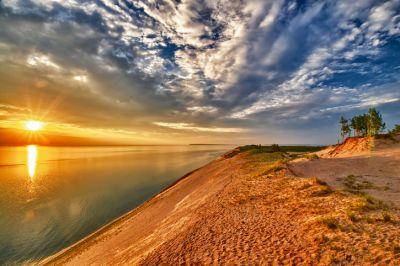 Michigan has a rich heritage that features indigenous peoples, immigrants and freed slaves. Many towns had stops on the Underground Railroad to get slaves to freedom in Canada. Here are a few of the best sites to explore spirituality and religion in the lower peninsula of Michigan.
Islamic Center of America, Dearborn
Huffington Post called this center the most spiritual place in Michigan. It was built in 1963, under the direction of Imam Jawad Chirri, as the first "purpose-built" Shiite mosque. Chirri came to America in 1949 without any knowledge of English. Still, he built this magnificent center that serves as a worship center and a "beacon for Islam in North America."
The Sleeping Bear Sand Dunes, Empire
Legend says that the Great Spirit Manitou created the sand dune on Lake Michigan to represent a faithful mother bear who was trying to save her two cubs after swimming across the lake to get away from a fire. The cubs drowned, but the mother bear did her best. The dunes offer some excellent recreational activities, but it's important to remember the site is spiritual for Native Americans.
Norton Mound Group, Grand Rapids
It's estimated that Michigan was settled as early as 11,000 BCE by indigenous peoples. These mounds are indicative of the Hopewell culture, which was not necessarily one society, but related ones that lived in North America from about 200 BCE to 500 AD. This National Historic Landmark is a burial site in which many beautiful and interesting artifacts of the culture have been found.
Cathedral of Saint Andrew, Grand Rapids
This Gothic Revival style cathedral serves as the seat of the Diocese of Grand Rapids. It was completed in 1850 and consecrated in 1883. Although it's undergone renovations over the years, the building is absolutely breathtaking. The front entrance is patterned after a piazza created in Rome by Michelangelo.
Presbyterian Church, Omena
This small church on the Leelanau Peninsula has an interesting history. It started in 1843, but the building wasn't dedicated until 1858. The church bell was made from English copper pennies. Support for the mission church was cut after the Civil War, but the congregation kept the church going, even though it was a struggle. It's only open from Memorial Day through Labor Day for worship. If you're ever in the area, you should make sure to check it out.
St. James Episcopal Church, Gross Ile
This Carpenter Gothic church, built in 1867, was built at the bequest of a former slave, Lisette Denison Forth. She left $3,000 of her estate to be used to construct a church. Her sons contributed the land and more money to make her vision happen. It houses a large Tiffany glass window, donated by Lisette's grandson. Although there is a larger church on site, this structure serves as a chapel. The red doors, while symbolic in all Episcopal churches of being open, are dedicated to Lisette's memory.
St. Florian, Hamtramck
This Polish Cathedral building was consecrated in 1928. The cornerstone of the church is in both Latin and Polish; one being tradition, the other commemorating the heritage of the church. Its altar was made in Italy. The building is quite opulent, considering that it isn't the diocese seat. However, it features a 200-foot high spire, which was specifically designed to be a contrast to the smokestacks of the manufacturing plants in the community.
Historic Adventist Village, Battle Creek
This small village has multiple buildings that will give you insight into the heritage of the Adventist movement. The church building was relocated from Parkville, Michigan. Ellen White had a vision here that predicted the Civil War a full three months before any shots were fired. There's also a log cabin, a meeting house and a schoolhouse from long ago. There's also a bit of history about how the Kellogg family became involved in the movement. It's just a wonderful attraction in south-central Michigan where you can explore the architecture and heritage of the time and of the denomination.