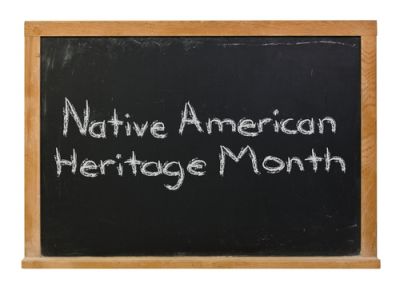 Since 1990, Americans have recognized November as Native American Heritage Month. It was President George H. W. Bush that issued the first proclamation, but even without a presidential declaration, it's important to remember the influence of Native Americans on the culture of the United States. Looking for ways to celebrate this month? Here are some suggestions.
Watch Documentaries About Native Americans
There are many movies that give false perceptions about Native Americans. Steer clear of the fictional stories and look for movies and documentaries that have been directed, produced and written by indigenous people. We have a few recommendations.
"Rumble: The Indians Who Rocked the World"
Celebrate Native Americans' contributions to the rock world in this documentary that reveals how indigenous musicians influenced the songs we listen to today.
Although Jeremy Renner and Elizabeth Olsen star in this film inspired by the thousands of stories of sexual assault of women on reservations, there are many Native actors who have prominent roles in the movie. It's a sobering reminder that Native women are often overlooked in demographics about violence on women.
"Bury My Heart at Wounded Knee"
This movie is a bit older but can be found on Amazon Video. It's been adapted from the book of the same name written by Dee Brown. It's about the history of Native Americans during the mid-1800s when they were transitioning to living on reservations. It received 17 Emmy nominations and won in six of those categories.
Read Books
You can find hundreds of books that should pique your interest about Native American culture and history. Choose indigenous authors with experience in the culture. Louise Erdrich, Sherman Alexie and Janet Campbell Hale are just three accomplished authors who have a unique lens into the history of Native Americans and the talent to tell the story.
Cook Up Some Recipes
Food is a great way to experience another culture. Firstnations.org has a wonderful list of recipes that can be created in your own kitchen using traditional Native foods and processes. Make sure to explore the cookbooks that were created for the project. Even if you don't cook anything, reading through those books gives you some interesting information about living off the land.
Check With Your Local Museums and Cultural Centers
Many national parks and museums host special events during November. If you can get to Washington D.C., visit the Smithsonian, the Library of Congress or National Archives. Many local communities will also have special celebrations during November that focus on Native American contributions to pop culture and history. Do a search for American Indian heritage sites near you. With a little bit of research, you may find some very interesting activities that can immerse you in the culture.
Go Online
NativeAmericanHeritageMonth.gov has an online exhibition that you can explore at your own time. It has an extensive list of items that have ended up in pop culture but were influenced by Native culture. For example, Calumet Baking Powder can be found in many cupboards. Did you realize the calumet is a Native American ceremonial pipe? There's another section that discusses "The Invention of Thanksgiving." There are plenty of good resources available to learn more about Native American culture and history.
Research your Own Heritage
Go back into your family's history and look at your history. You may not have Native American ancestors, but you can appreciate the heritage of your family and where it could have been impacted by Native American culture. Line up your own history against a timeline of what was happening in the community to understand similarities and differences. You may not find a connection, but it can help you put historical events in context.