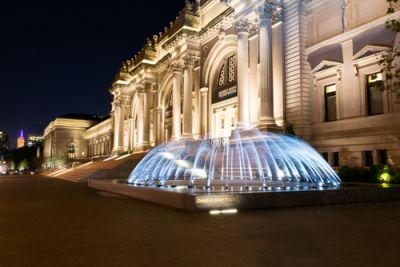 Art can be a bridge to another culture. Islamic art isn't only about the religion of Islam but about the society as well. Early Islamic art of the 7th century was influenced by other cultures, such as Roman, Byzantine and Chinese styles. Islamic art typically focuses on geometric or floral patterns and calligraphy, rather than figures or human forms, because the Qur'an forbids idolatry. That doesn't mean you won't find depictions of people, just that it's rare because portraits were slow to catch on.
Although there aren't many museums in the U.S. dedicated solely to Islamic art, there are quite a few that have extensive collections of art and artifacts that explore Islamic art.
Detroit Institute of Art, Michigan
In 2010, the DIA opened a permanent gallery dedicated to Arab and Islamic art. The collection includes Ottoman mosque candlesticks dating from 1500 and a 15th-century leather-bound Qur'an with gold-flecked paper. The museum began collecting Islamic artwork in the 1920s. Today, the collection focuses on art from Spain and India, but one of the rooms showcases sacred Muslim texts along with Jewish and Christian works for an interesting display.
Metropolitan Museum of Art, New York
The Met probably has the most extensive collection of religious and secular Islamic art in the United States. The collection of 12,000 objects date from the 7th to 19th centuries and range from Spain and Morocco to India. One Friday each month, the museum hosts a gallery dialogue about art and culture to help gain a deeper understanding into the Islamic world. Much of the collection can be viewed on the Met's website for people who cannot get to the museum to view it in person.
Freer Gallery of Art and the Arthur M. Sackler Gallery, Washington, DC
As part of the Smithsonian national museums, the Freer and Sackler Galleries have an extensive collection of Islamic manuscripts and ceramics from Europe, North Africa and Southeast Asia. Because the geography is so vast, you can see different distinct regional patterns while noticing the shared aesthetics of the items. In addition to ceramics and manuscripts, the museum houses a collection of 14th century Syrian glass and 13th century metalwork.
Arthur M. Sackler Museum at Harvard University, Massachusetts
Mr. Sackler started collecting art in the 1940s. He was a philanthropist who not only contributed to science but also to the humanities. His collection composed tens of thousands of pieces of works in different styles, historical periods and cultures. The Harvard Museum in his name houses works on paper, such as paintings, drawings, calligraphy and manuscripts from the 8th through the 19th centuries.
Los Angeles County Museum of Art, California
The LACMA has a completely different take on Islamic art than the other museums listed because its focus is more on contemporary art and artists. That's not to say that the collection doesn't draw on the tradition of Islamic art, but the works demonstrate a completely different expression. One current exhibit through July 8 features two of the world's most renowned Persian carpets from the 16th century. The fibers are sensitive to light and have rarely been displayed to preserve their integrity.
Museum With No Frontiers
This website pulls together online exhibitions of art, with one of its focuses on Islamic art. It's worth perusing, especially if you can't travel to faraway places to view the exhibitions in person. The virtual exhibitions are extensive, with well-written information about the culture and art. One section is dedicated to geometric art, with the caption, "Muslim artists did not 'invent' geometric decoration but they developed it to its full potential." You could spend days looking through the site and discover new things.