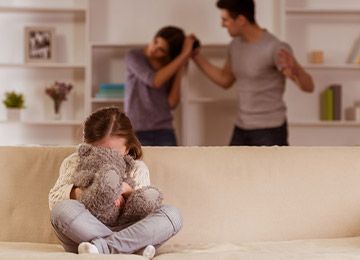 Children are often the silent victims of domestic violence, whether they live in a home where it's the norm or just experience it second-hand as they listen to their uncle yell at their aunt at a family dinner. According to UNICEF's "Behind Closed Doors":
"The single best predictor of children becoming either perpetrators or victims of domestic violence later in life is whether or not they grow up in a home where there is domestic violence. Studies from various countries support the findings that rates of abuse are higher among women whose husbands were abused as children or who saw their mothers being abused."
The cycle is real. Children exposed to violence are more likely to be abusers or victims of violence. According to the Resource Center on Domestic Violence: Child Protection and Custody, 3.3 to 10 million children are exposed to adult domestic violence situations annually. Some researchers estimate that as many as one-third of children are exposed to intimate partner violence at some point during their childhood.
How is the cycle of domestic violence broken? It starts by teaching children that they aren't responsible for the situation and that violence is not the norm. Being frightened at home is not normal. Children who experience domestic violence are often too scared to talk about it, so adults have to open the conversation. One great way to start talking about this subject is to use books. Here are some excellent resources:
1. Anger Is Okay Violence Is NOT (Julie K. Federico)
Federico has a long list of books that are great resources for children dealing with difficult topics. This book helps children find alternative behaviors instead of getting angry. It's hidden message deals with domestic violence.
2. Some Secrets Should Never Be Kept (Jayneen Sanders)
This picture book talks about body safety in a nonthreatening and age-appropriate manner. It's beautifully illustrated by Craig Smith and written for children up to 12 years old. Adults can use the discussion questions in the back of the book for added conversation about the topic.
3. A Terrible Thing Happened (Margaret M. Holmes & Sasha J. Mudlaff)
Sherman sees something awful happen. He gets nervous and anxious, but when he talks about it with a counselor, he feels better. This book supports mental health therapy. It's not just about witnessing domestic violence, but natural disasters, gang violence or accidents.
4. The Day My Daddy Lost His Temper (Dr. Carol Santana McCleary, PsyD)
This book is part of the Empowering Kids Series, which helps children learn to verbalize their experience and feelings. This helps the healing process and reduces feelings of shame by letting children know they aren't alone.
5. The Night Dad Went to Jail: What to Expect When Someone You Love Goes to Jail (Melissa Higgins)
When the police arrest a parent, the child can feel a multitude of things, from fear to anger and guilt. This well-written book helps kids understand it wasn't their fault.
6. Lizzy Lives in an Angry House: Learning to Thrive in the Midst of an Angry Environment (Karen Addison, MSPH)
This book is a resource for children and adults who are living in an unhealthy relationship. It's written to help children understand how to make sense of the situation and still love the abusive adult. Addison gives children ways to keep themselves safe while still speaking up. It's not necessarily a picture book in the truest sense, but it offers hope and healing.
Give Children Confidence
Talking to children about their experiences helps them learn to process their feelings and deal with problem situations. Books are a great way to open the door to dialogue on difficult issues. Even if your child isn't immediately dealing with domestic violence, reading about these situations can help if he or she ever does have to face abusive adults.