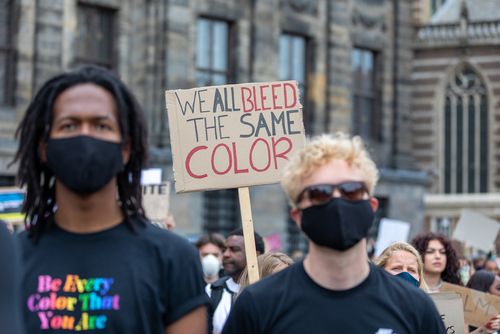 News of the death of George Floyd, an unarmed African American man in Minneapolis who died while being detained by a police officer, quickly spread across the United States and the world, leading to widespread outrage and numerous protests. In the midst of the anger, grief, and confusion that followed, religion has played an important role for many people by offering a direction and promoting positive action in the wake of tragedy. Most religions seem to be in agreement in their stance on this event. 
Unified Responses
According to a study done by the Pew Research Center, over 80 percent of the world's population belongs to some form of religion. This can make the opinions of religious leaders and the group mindsets they promote an important part of the global political landscape. 
Over the past few months, it has been interesting to observe the ways in which different religions have responded in a unified way to issues. The COVID-19 outbreak, for example, led to widespread efforts to promote teamwork and collaboration in the form of interreligious prayer, acts of service, and efforts to support those around the world who have struggled with the virus. While the novel coronavirus seems to have held the focus of the world for months, it is far from the only event that requires global attention. 
Religions have also been incredibly unified in their responses to the killing of George Floyd and the widespread protests that have followed. Religious leaders from a variety of faiths, including those from Jewish, Buddhist, Muslim, and Christian denominations, have come forward to voice their opinions and provide those who may be feeling lost with a sense of direction. 
Religious Leaders Speak Out
Almost all of the leaders who have publicly spoken on the matter share the exact same message: that their followers need to stand against racism, that love and compassion are the only way to heal, and that they must continue to work toward positive change. In some cases, they even encourage listeners to participate in peaceful protests. While some of these speakers have added that they generally feel a lot of support for law enforcement officers who do good work to protect people, this will not stop them from speaking out against overly violent actions that they see as morally wrong. 
One noteworthy example of a leader stepping forward occurred when the Dalai Lama, an important figure in Tibetan Buddhism, condemned the violent actions against the unarmed African American man. This occurred in a talk that he gave via live stream that stressed the importance of compassion and the dangers of racism and discrimination. Not only are his actions a prominent example of how religion can be used to resist violence and promote positive change, but they also show how the event, which took place in the United States, has become part of a wider global issue. 
In addition to examining the tragedy as a part of religious lessons, many churches, especially those in or near the community that has been directly affected, have held candlelight vigils and other memorial events in honor of George Floyd.
Promoting Change and Equality
During recent current events it can be interesting to observe the impact that religion has on the reactions of people worldwide. Leaders from many major religions have actively spoken out against the unjust death of George Floyd, with the Dalai Lama being one prominent example. While they encourage peace and compassion above all else, these churches have made their standpoint on the issue clear. The death of the unarmed man is repeatedly described as a heartbreaking tragedy in religious talks. Leaders continue to urge members of their respective churches to treat all people with equality and to work for a better world with less injustice and discrimination.