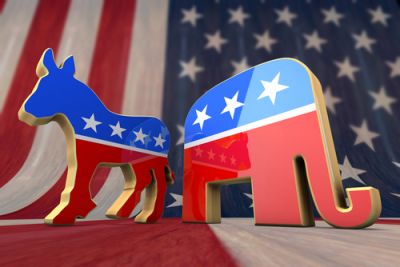 With the 2020 presidential election season upon us and gearing up almost by the day, another race is also on: seeing who can most closely predict which candidate will win based on the views, predilections, and issue importance of each major party's membership.
Now a recent Pew Research Center poll finds that nonwhite Democrats, composed mostly of blacks and Hispanics, are more like Republicans than they are like their white Democrat cohorts — at least when it comes to their views on religion. The similarities and differences start at the basic levels of belief.
Belief in God
When study participants were asked if they believe in God as described in the Bible, the "yes" answers were as follows:
72% of white Republicans
61% of nonwhite Democrats
60% of nonwhite Republicans
32% of white Democrats
When asked if they believe in a higher power or spiritual force other than the biblical God, the results were similar, although in much lower percentages across the board. "Yes" answers were as follows:
45% of white Democrats
32% of nonwhite Democrats
32% of nonwhite Republicans
22% of white Republicans
What this means is that overall, 99% of all nonwhite voters, Democrat and Republican together, believe in God or a higher power. Furthermore, the nonwhite Democrat responders said they believe that this god/power is all-loving, all-powerful, and all-knowing almost twice as often as did the white Democrat responders. Those percentages were 64% and 35%. As for the Republican responders, 67% overall said they believe these things.
Religious Practices
Weekly church attendance percentages followed the same pattern, coming in at 44% for all Republicans, 39% for nonwhite Democrats, and 22% for white Democrats. In addition, 62% of nonwhite Democrats said they pray daily as compared to 62% of all Republicans and 22% of white Democrats. Looking at the responses of black Democrats only, the percentages become even more striking: 47% of them say they go to church at least once a week, and 74% say they engage in daily prayer.
Importance of Religion
When asked how important study participants found religion to be in their lives, nonwhite Democrats and Republicans responded "very important" in almost equal percentages, 62% and 61% respectively. Thirty-five percent of white Democrats gave the same response.
Christianity
Perhaps not surprisingly since Christianity by far represents the most widely practiced religion in the US, 82% of all Republican responders identified themselves as Christians. Among the Democrats, 72% of the nonwhites and 57% of the whites self-identified as Christians.
Important Political Issues
Nonwhite Democrats and Republicans tend to diverge when it comes to political issues, however. Abortion represents possibly the largest point of divergence. Given that the belief in "a woman's right to choose" has long been a plank in the Democrat platform but definitely not that of the Republican platform, the response of self-identified Christian study participants regarding their views on abortion came as no surprise. Over three-quarters of white Democrats, 76% to be exact, believe that abortion should remain legal in virtually all cases. Nonwhite Democrats agreed by 58%, including the 57% of black Democrats who believe this. Only 38% of Republicans overall agree with this view.
Likewise, both white and nonwhite Christian Democrats were far more likely to say that "buying products from companies that pay their employees a fair wage" and "working to protect the environment" represent two essential Christian beliefs. In fact, the ratio between Christian Democrats and Christian Republicans on this essentiality aspect was 2:1.
Keeping in mind that almost 80% of registered Republicans are white and approximately 40% of registered Democrats are nonwhite, we'll nevertheless have to wait a while to see whether or not the similarities between nonwhite Democrats and Republicans make any difference at the polls.