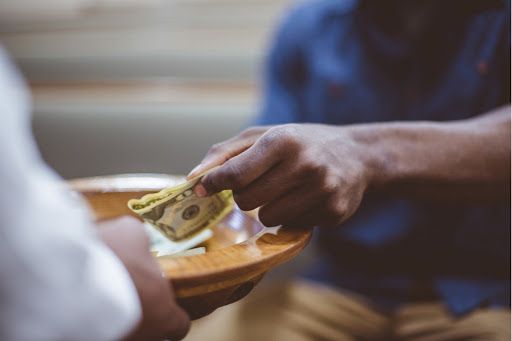 The $1,200 stimulus checks issued by the U.S. Government to provide Americans with relief during the coronavirus began hitting the bank accounts of millions in the month of April. Many are depending on the check to help them cover their rent and purchase food while they are forced out of work. That hasn't stopped one notorious Louisiana pastor from challenging Americans to donate their checks to evangelists instead.
Last week, pastor Tony Spell of Life Tabernacle Church in Baton Rouge, Louisiana released a video titled #PastorSpellStimulusChallenge in which he challenged listeners to donate their stimulus check to North American evangelists who "haven't had an offering in a month." And just in case people are not familiar with any evangelists to donate to, pastor Spell was kind enough to provide his church's website so they can donate directly to him.
It's safe to say that his video did not receive the response he expected as it has now been disliked over 26,000 times on YouTube, compared to a measly 290 likes. The comments on the video are not kind to Spell either ,with many describing him as "repulsive", "despicable", and "disgusting" for requesting Americans' stimulus checks.
That doesn't mean that Spell is backing down, however.
Checks For the Church
Pastor Spell appeared on CNN on April 19th to respond to the public outcry against his challenge and defend himself. Spell admitted that many of his congregation come from poor economic backgrounds, many of them living without internet connection and requiring shuttles to bus them to the church. CNN's Victor Blackwell questioned why the pastor would ask for their stimulus money if he's aware of their financial situation as well as asking, "Why isn't this a time for the church to give to those who do not have?"
Pastor Spell insisted that his church was giving back to the community, although he did not provide any specifics, and doubled-down on the challenge he issued saying, "This is a challenge. We're challenging you - if you can - give your stimulus package to evangelists and missionaries who don't get a stimulus package."
Blackwell pointed out that churches are eligible to receive small business loans from the government to help the people Spell is trying to help with this challenge but Spell doesn't want the federal government to "give us a dime."
This isn't the first controversy Spell has found himself in during the coronavirus pandemic as he has continuously ignored social distancing guidelines, holding church services as recently as Easter Sunday which roughly 130 parishioners attended. He is but another in a long line of evangelical pastors who have defied stay-at-home orders in the past month and continued to hold in-person services. Though Spell denies anyone has been infected at his services, one elderly member of his congregation has already died from the virus and his lawyer, a regular service attendee, is currently battling the Covid-19 virus.
Preaching the Gospel of Prosperity
Pastor Spell appears to be putting a new twist on the old preaching style of prosperity gospel, where church leaders teach that if you donate money to them, God will look upon you favorably and reward you in turn. While this brand of preaching may not be widespread compared to others, it is certainly not lacking in influence. One of the country's most prevalent prosperity gospel pastors, Paula White, accepted a positon within the Trump administration at the White House.
It's hard not to see this as an advantageous cash grab by a pastor using similar preaching tactics. The people receiving stimulus checks are often the ones in the most financial distress and challenging them to donate it to a church that is eligible to receive their own financial assistance through loans from the Small Business Administration seems disingenuous at best.
That's not to say that churches aren't struggling right now. With many churches closed, they aren't receiving the regular weekly offerings that helped keep their staff employed. It's one thing to ask for donations, but it's another entirely to combine that with the pressure of "God's will" and direct the request to the most vulnerable of a congregation.
What are your thoughts about this means of fundraising? Are there merits to prosperity gospel preaching or is it just a targeted money-making scheme?