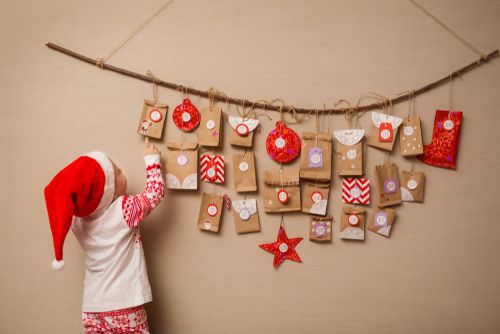 The period of the year between late November through December isn't known for its ease and tranquility. Students and teachers are rushing to finish up the semester before a well-deserved break. Families are preparing their grocery lists and their homes for an influx of holiday visitors. Shopkeepers and retailers compete to draw the growing crowds to their stores to help them find that perfect gift.
For those who observe Advent, though, there is particular merit in making room for stillness. This season that begins the liturgical year is one of waiting and watching for the promised savior. It is easy to gloss over the weeks of hope, faith, joy and love if you don't intentionally take the time to slow down and reflect. Fortunately, incorporating some simple habits into your routine can help ensure that Advent doesn't just pass you by.
Advent Candles
Every Sunday, churches that observe Advent will light a new candle during the service. They start with the first candle around the wreath and then add an additional candle each of the remaining three services during the season. Depending on the tradition, the first, second and fourth candles will typically be purple or blue, and the third candle is rose or pink. Finally there is a white candle in the middle that is to be lit on Christmas Eve or Christmas morning.
You can recreate this ritual in your home. An easy time to add it to your nightly routine is at the beginning of dinner. You can purchase a wreath to hold the candles or make your own. Light the appropriate tapers, and either sing a favorite Advent hymn together or read a verse or reflection for the day. This small task helps to keep you and your family in a mindset of expectation.
Advent Calendar
Another common daily practice during this time of year is the use of an Advent calendar. The standard calendar offers a small treat behind the flap on each day of the season, so children of all ages tend to be especially fond of this tradition! It's another simple opportunity to take a moment to slow down and reflect on the meaning of the season.
While a daily dose of chocolate is a popular theme for Advent calendars, there are many other options that you can use to tailor the specific treat to your preferences. Some people create a calendar with a different prompt for each day of a holiday experience to enjoy, such as baking cookies or driving around to see festive lights. You can even observe this practice with believers worldwide on social media by joining the AdventWord community.
Advent Meditation
Without reflection, adding other tasks to an already harried season can feel like busywork. Taking the time to engage in daily meditation during Advent is likely to invoke more meaning than just going through the motions of ritual. Include a meditation or reflection when you light your candles, or open the day's section of the calendar to get more out of those practices as well.
If you are new to meditation, start with five to 10 minutes. You don't have to spend a lot of time to get something out of it. Try to clear your mind and focus on your breathing for a few minutes. After you are calm and present, you can pray, use a mantra or focus on a particular word that seems fitting for the moment. Once you get started, you may decide you want to continue a daily meditation practice even after Advent is over.
Without intentional rituals to mark the days of Advent, it is easy to let the whole season slip by unnoticed. Incorporating simple daily tasks into your observation of the weeks leading up to Christmas can help make the time more meaningful.