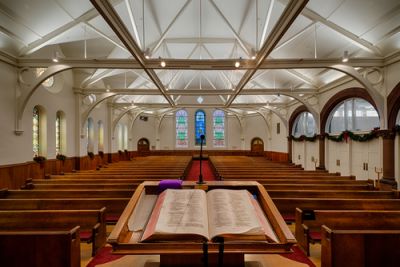 A new Gallup poll released in April of this year reveals that the number of people who belong to a church, synagogue or mosque reached an all-time low of 50% in 2018. Church membership reached its high of 76% in 1948, and the numbers have been dropping ever since. In the past 20 years alone, church membership has decreased by 20 percentage points.
In the years between 1998 and 2000, 90% of Americans reported having a religious affiliation, with just 8% reporting none. Compare that with the numbers between 2016 and 2018, during which only 77% of Americans reported having a religious affiliation and 19% reported having none.
Breakdown by Age
The poll found that a person's age strongly influences his or her likelihood of belonging to a church, synagogue or mosque. Perhaps not surprisingly, senior citizens born prior to 1945 are the most likely to belong, although even their numbers have dropped by 9%. Church membership among baby boomers, those born between 1946 and 1965, dropped from 67% to 57%. Meanwhile, millennials, those born between 1980 and 2000, are the least likely generation to belong, reporting only a 42% membership rate.
Breakdown by Faith
Church membership has declined most steeply among Catholics, decreasing from 76% to 63% since 1998. Many attribute this to the continuing sex abuse scandals within the Church and its members' consequent questioning of their commitment to it. Church membership among Protestants has seen only a 6% drop during the same time period, declining from 73% in 1998 to 67% today.
Pew Research Center's Top 10 Religious States
Despite the undeniable decline in church membership in the past two decades, a 2017 Pew poll found that those Americans who remain religious are even more devout than they were a few years ago. And most of them tend to adhere to the Christian faith and live in the Bible Belt, composed of 11 Southern states plus Utah. Here is Pew's list of the top 10 most religious states in America:
Tie between Mississippi and Alabama
3. Tennessee
4. Louisiana
5. Arkansas
6. South Carolina
7. West Virginia
8. Tie between Oklahoma and Georgia
North Carolina
Both Mississippi and Alabama showed a 77% adult population of "highly religious" individuals. In Alabama, 82% of adults said they believe in God with absolute certainty and 73% report that they pray daily. The percentages were little different in Mississippi, coming in at 74% and 75% respectively. The percentages of self-identified Christians in the two states came in at 86% and 83% respectively.
Compare that to North Carolina, the state ranked number 10. Here, 65% were classified as "highly religious," with 75% of adults saying they believe in God with absolute certainty and 39% reporting that they attend worship services at least once a week. The number of self-reported Christians here amounted to 77%.
In Arkansas, right in the middle of the Top 10 list, 70% were classified as "highly religious," with 77% of adults saying they believe in God with absolute certainty and 77% reporting that religion plays a "very important" part in their lives. Here the number of self-reported Christians amounted to 79%.
Least Religious States
In contrast to the Bible Belt, New England represents the least religious area of the country, followed closely by the Pacific states (Washington, Oregon, California, Alaska and Hawaii). This is according to the Gallup Poll released in April of 2018.
Only 26% of New England adults considered themselves "very" religious, another 26% considered themselves "moderately" religious, and a full 48% considered themselves "not religious at all." The percentages were quite similar for the Pacific states, coming in at 29%, 28% and 43% respectively.
The newest Gallup poll figures reflect the trend reported by Gallup for decades. The number of Americans regularly attending religious services continues to decrease, while the number of those with no religious preference or affiliation continues to increase.