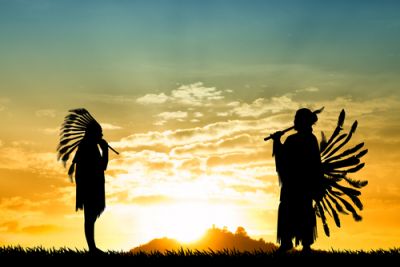 In a previous article, the documentary "Rumble: The Indians Who Rocked the World" was recommended. Let's celebrate Native American musicians and their contributions to pop culture and music. Here are six musicians and bands with Native American roots who are continuing to influence music today.
Redbone
Redbone's most popular hit in the United States, "Come and Get Your Love," was featured on Marvel's 2014 "Guardians of the Galaxy." The original members, Pat and Lolly Vegas, were brothers with Yaqui, Shoshone and Mexican heritage who wanted to perform surf music. Their agent believed the world wasn't ready for the idea, so they formed an all-Native American rock group instead. Redbone is the Cajun term for a mixed-race person. Pat Vegas recently received the Lifetime Achievement Award from the Indigenous Music Awards, recognizing his influence in the music world.
Their hit "We Were All Wounded at Wounded Knee" is a tribute to the 1890 massacre of Lakota Sioux. It topped the charts in many European countries, but in the United States, its lyrics were considered controversial. Several radio stations either withheld the release or outright banned the song. Make sure to put it on your playlist at least once.
Walela
Sisters Rita and Priscilla Coolidge, along with Priscilla's daughter, make up this trio named for the Cherokee word for "hummingbird." Listen to their rendition of "Amazing Grace" for a special version of this popular song. It's sung in the Cherokee language, their heritage. Rita is probably more well-known for her pop singles, but Walela has a unique vocal sound that reflects their Native American culture.
Robbie Robertson
Robertson's career has spanned more than six decades and includes accolades for his work as a guitarist and songwriter. He has collaborated with Martin Scorsese, producing and composing music for films such as "Raging Bull." Robertson's mother was a Cayuga and Mohawk woman. Many of his most popular works are based on his Native heritage. He's had a huge influence in the music industry and is credited as being one of the early influences of the Americana music genre.
Marvin Rainwater
Rainwater was known in the rockabilly and country genre. He was 25 percent Cherokee and often performed on stage in Native American costume. The height of his career was in the late 1950s, after he won first place on "Arthur Godfrey's Talent Scouts." His most popular songs were fairly mainstream, but he also did some songs about Native American experiences. Look for his version of "Half-Breed." It's a sad commentary on how Native Americans were once treated.
R. Carlos Nakai
Nakai has Navajo-Ute heritage and is one of the leading Native American flutists in the world. Many of his recordings are preserved at the American Folklife Center in the Library of Congress. Not only does Nakai preserve his own heritage through music, he's collaborated many times with other musicians from around the world, including an Israeli cellist, a Tibetan flutist and a Japanese folk ensemble. HIs music reflects his culture and traditions, and he's earned many awards for his performances.
Jana Mashonee
Jana is of Lumbee and Tuscarora descent, Native American peoples from the North Carolina area. She was the first Native American to top the Billboard dance charts. Her concept album, "American Indian Story," earned her a Grammy nomination. She's also an author of a book based on the album. If you're looking for some unique Christmas music, her album "American Indian Christmas" has classic Christmas songs sung in Native American languages and accompanied by Native instruments. It earned her a Nammy award (Native American Music Awards). Jana has performed for President Obama and for First Lady Laura Bush. She is a remarkable performer, but she also is a philanthropist through her Jana's Kids Foundation and other charities she supports.
These artists and many more have made significant contributions to various genres of music. You should add them to a playlist today and listen for yourself.