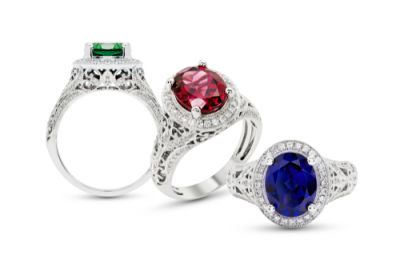 The old Marilyn Monroe song assures us that "diamonds are a girl's best friend." But if you are a woman who has always preferred — gasp! — the luscious colors of gemstones to the fiery brilliance of colorless diamonds, you are in luck when it comes to engagement rings. Today an ever growing number of women are opting for alternative gemstone rings for a variety of reasons.
Rainbow of Colors
You can find beautiful gemstones in virtually every color imaginable. Going off the color wheel, here are just a few examples:
Red: agate, carnelian, cinnabar, garnet, jasper, ruby
Orange: orange citrine, orange coral, orange fire opal, orange garnet, orange tourmaline, sunstone
Yellow: cat's eye apatite, citrine, golden beryl, lemon quartz, mali garnet, star lemon quartz
Green: alexandrite, emerald, jade, malachite, peridot, serpentine, tourmaline
Blue: apatite, aquamarine, chalcedony, kyanite, lapis lazuli, moonstone, sapphire, turquoise
Purple: amethyst, charoite, violet purple sapphire, violet purple spinel
Brown: chocolate opal, color change garnet, smoky quartz, tiger's eye
Black: black agate, black opal, obsidian, onyx, serendibite
By the way, you may be interested to know that the engagement ring Prince William gave Kate Middleton, a/k/a Catherine, Duchess of Cambridge, is made up of a 12-carat oval blue sapphire with 14 solitaire diamonds surrounding it. The ring has great sentimental value to Prince William since it previously belonged to his mother, Princess Diana. Prince Charles gave it to her as an engagement ring in 1981.
Mohs Scale
One of the things you likely will want to consider when choosing the perfect gemstone for your engagement ring is that none of them are as hard as a diamond. Not surprisingly, the harder a stone, the better it will stand up to day-to-day wear and the less likely it will be to chip, crack, scratch, or break. The Mohs scale ranks the hardness of gemstones from 10 (the hardest) to 1 (the softest). Here are the Mohs scale rankings for some of the most popular stones:
Sapphire and ruby — 9
Topaz — 8
Aquamarine and emerald — 7.5–8
Tourmaline — 7–7.5
Amethyst and rose quartz — 7
Garnet — 6.5–7.5
Onyx — 6.5–7
Sunstone — 6–6.5
Opal — 5–6.5
Turquoise — 5–6
Lapis Lazuli — 5–5.5
Pearl — 2.5–3
Another thing to remember when it comes to the wearability of your gemstone engagement ring is that the more faceted your gemstone, the lower its hardness. And the lower its hardness, the faster its faceted edges will round off.
Affordability
When it comes to price, all gemstones are not created equal. For instance, a high-quality sapphire, emerald, or ruby may well cost as much as, or very little less than, a diamond of equal carat size. On the other hand, gemstones such as tiger's eye, rose quartz, amethyst, agate, citrine, jasper, onyx, and turquoise fall on the lower end of the price spectrum. Your setting will likewise contribute to the overall cost of your engagement ring.
If you want the affordability of a gemstone but the tradition of a diamond, you may want to consider a chocolate diamond. Actually, Chocolate Diamonds® are a trademark of the Le-Vian group. As the name implies, chocolate diamonds are brown in color. They're real diamonds, but because of their chocolatey color, they cost considerably less than clear diamonds. In fact, chocolate diamonds generally fall within the $1,000 – $5,000 price range.
Bottom Line
To go back to the original question of whether your engagement ring must be a diamond, the answer is a resounding no. Bottom line, if you want a unique engagement ring that makes a statement, a gemstone ring may be exactly what you're looking for. With an almost never-ending variety of stones and colors from which to choose, your gemstone engagement ring can express your personality, your individualism, and the real you.