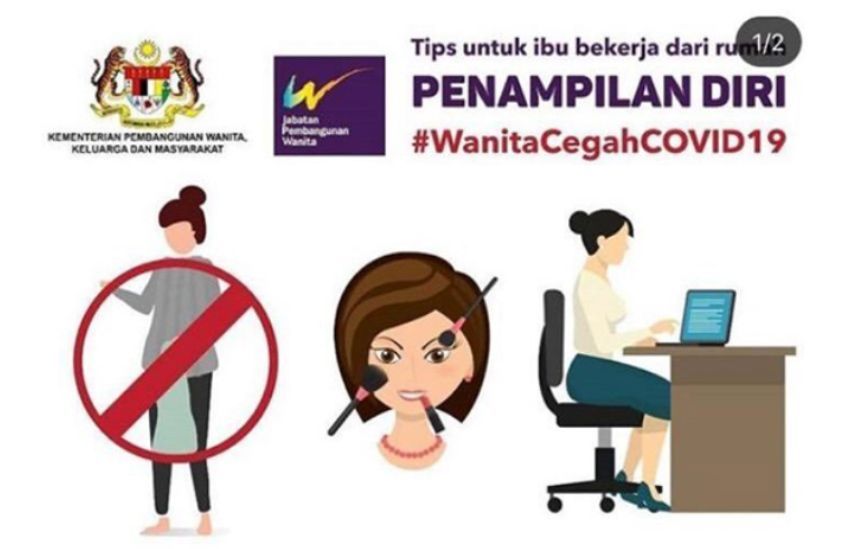 The coronavirus pandemic is putting relationships across the world to the test.  Members of a household used to head outside separately every day for work, shopping, or just for fun.
But now, quarantine orders around the globe are restricting movement and forcing families to stay together in close quarters 24 hours a day for weeks, with no end in sight. This can cause tempers to flare and relationships to be strained.  Couples who have issues have no way to remove themselves from the situation as they are stuck inside together.
Perhaps hoping to head off potential altercations, the Malaysian government decided to issue some helpful tips for women on maintaining "household harmony" and keeping their spouse happy during this stressful time.
It was not well received.
Look Sexy and Don't Nag
Malaysia's Women and Family Development Ministry came out with a campaign to give advice to women at home quarantined with their husbands. Don't nag, dress well, put on makeup, and be sure to girlishly giggle for him.
They issued cartoonish illustrations on posters showing women how to look during quarantine. One cutesy image shows a woman with makeup brushes, lipstick and eyeshadow hovering around her face. Another shows a woman wearing loose full coverage clothes with a red line through it and suggests a tight blouse and skirt instead.
This campaign was swift to draw condemnation online. The posters "promote the concept of gender inequality and perpetuate the concept of patriarchy" Nisha Sabanayagam, a manager at the All Women's Action Society advocacy group, says.
As usual, the internet had plenty of criticism to dole out over the campaign.
There are obviously a lot of issues with this messaging. But for starters, it was particularly ill-timed. Malaysia's crisis hotline has seen a 57% increase of calls from women fearing violence at home and a skyrocketing rate of domestic violence due to the current quarantine. Social media was quick to question the government's priorities – why encourage women to be obedient wives instead of punishing men who are violent?
Eventually, the government agency responsible for the poorly-conceived campaign issued an apology, stating "our approach was to share ways and practices to maintain positive relationships within the family while working from home. We would like to apologize if several tips were inappropriate or if they touched on the sensitivities of certain groups. We will be more careful in the future."
Virus from on High
Doing what it takes to keep your husband happy by being pretty and acting submissive is actually a welcome message in some circles. 
While most of us anxiously await the moment we are given the go-ahead to get back outside and to our normal routine, there are some women with the opinion that this pandemic was heaven-sent in order to get women back in the home for good.
Christian author and blogger Lori Alexander, known online as "The Reformed Wife," claims this virus was sent by God to put women back in their rightful place: the home.
A woman's Godly role is in submission to her husband, according to Alexander. Her recent tweets say "If you teach your daughters to be 'independent' (which isn't biblical) and pursue higher education and a career, the chances of them ever being able to be home full time with their children goes way down."