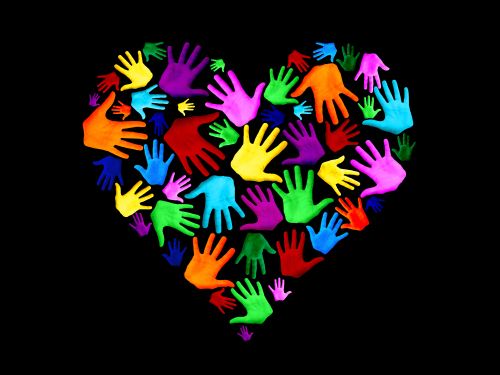 Mutual aid groups often spring up as grassroots movements that seek to meet the needs of communities at the local level. This is similar to the Jewish concept of tikkun olam, which implores believers not only to take responsibility for themselves but also for the well-being of society at large. This exhortation is not limited to those of the Jewish faith, though. Spiritual communities of all kinds can support mutual aid efforts in their own locales.
Follow Social Media
When widespread winter storms put large populations in Texas in peril, mutual aid groups were some of the first to respond to their local communities' needs. Many groups that were already in place answered the call to collect clean water, blankets, space heaters and food to distribute to those who didn't have them. Many organizations compiled lists of places where those who needed help could get it and those who had extra to share could give. Many of the funds received also went to help those with structural damage pay for repairs and a temporary place to stay. Most of the messages were simply sent out and shared via social media, circumventing the need to wait for local news stations to approve and broadcast them.
The first step of getting involved in mutual aid in your area is finding the groups that support your community and following them on social media. Your interaction with their accounts affect the algorithms the platform uses to prioritize how readily their posts show up in followers' feeds, so make sure you are liking and commenting on posts whenever you can. Passing the information they share to your own followers helps to raise awareness and connect them with other people in the community.
Volunteer Time
Having a strong internet presence is one way that mutual aid groups attract donations and assistance. Many of the people who need the help the organization is offering may not have reliable internet access, though. Other lines of communication must be used to ensure that the supplies and funds that are collected go to the community they're meant to support. Volunteers are crucial for this process.
Make an announcement at church or print a blurb in the bulletin to inform members about volunteer opportunities. Almost anyone can do something that helps mutual aid organizations get the word out:
Deliver fliers to public areas such as libraries, post offices and food distribution centers
Make phone calls to residents in surrounding neighborhoods
Answering phone calls that come into the office
Mail brochures to find more volunteers, supplies or people in need
Mutual aid groups also need people who can sort, inventory and deliver the donations they receive. A lot of work goes into making the process run smoothly, and your help is likely needed.
Donate Goods and Money
If you have more financial resources than time, donations may be the best way for you to participate in mutual aid. The next time you make a grocery run, check the website or social media accounts to see what the most dire current needs are. Then you can pick up extra when you shop. You can also order goods online and have them shipped directly to the organization. Some mutual aid groups have a way to accept monetary donations on their websites, but many also accept payment through mobile payment apps such as Venmo or Cash App, which allows them to share financial support more quickly.
If you are concerned about the people in your city who have the greatest need, mutual aid organizations may be your best bet for getting them help fast. These groups provide on-the-ground support for those enduring hardships, and they can always use more support. Find out how you can get involved, and recruit some volunteers from your church to help.