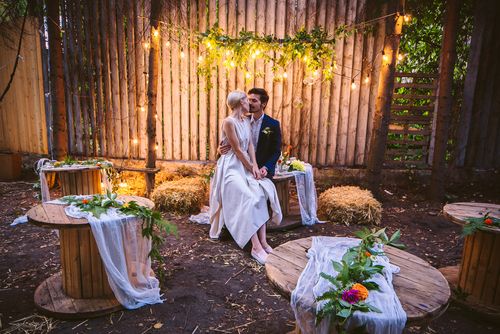 Weddings can often feel like big and elaborate gatherings where couples see how they can outdo each other in terms of spending. While it is true that some people can get a bit lavish with their nuptials, there are just as many couples who would prefer a simple wedding ceremony. If you're looking to arrange the easiest gathering possible without sacrificing any of the emotional weight of the event, look over a handful of tips on how to get this idea off the ground.
Define the Parameters
First and foremost, you should define your goals. Stating that you want to have a simple civil wedding ceremony is not enough to bring your plans to fruition. Be as specific as possible with what you would like to get out of your event. If you want to just run to your local county clerk's office and fill out the required paperwork with a witness or two, then you won't really need to worry about much else. However, you may still want to get your family and friends together after you've made things official.
Just because you're having a very small and intimate gathering for your ceremony does not mean that you can't have a decent party to follow. Since you're keeping the ceremony itself small, this means that you will not need to spend a lot of money on making your marriage legal. This, in turn, gives you a bigger budget to work with for any type of party you'd like to host. You may not be throwing a royal wedding by any means, but having a small chunk of change to spend on a reception may be key to your enjoyment.
Think Through the Details
There are also a few easy ways to host a simple marriage ceremony without having to run to city hall to seal the deal. Some couples find that asking a friend or relative to act as the officiant for the event can be a fantastic way to cut corners when it comes to expenses. The process of becoming an officiant is much less involved and financially taxing than the act of hiring a stranger to oversee your nuptials. Go with someone you know to add a sentimental edge to a cost-effective decision.
Create a Quick Script
Whether you're asking someone you know to officiate or you are getting a stranger to take on the task, you might want to control the finalized script for your event. Some couples want to have a say in how the speech goes. If this is what you and your partner would prefer, take a moment to look at some examples of simple ring exchange vows. This is a big moment of the ceremony and one that you want to put a lot of thought behind. Review some templates and write out a few drafts of your own vows.
The Final Points
As with planning a large event, you will find that writing out to-do lists can be a phenomenal way for you to stay on top of all the pressing tasks associated with throwing a wedding. Checklists keep all of your objectives manageable, making it a lot easier for you to get everything done no matter how much or little time you may have. Plus, you can maximize organization and flow by using smaller itemized lists to be more specific about the subsets of responsibilities associated with each primary planning item.
Throwing a small and simple wedding service is all about scaling back with a purpose. Whether you're looking for an intimate ceremony and raucous reception or you would like to keep the whole affair on the quieter side, there are plenty of reasons to review the basics of planning a simple ceremony.