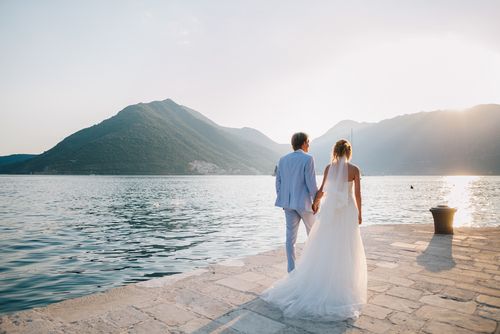 A destination wedding is an exciting option for many couples. If you and your partner love to travel, it makes sense to start your life together with a grand trip. It also gives you the opportunity to combine your wedding and honeymoon into the same budget, which can ultimately save you a little money if you have your heart set on a particular location. A solid plan is a good way to make your destination wedding go as smoothly as possible.
General Overview
Besides agreeing on a location, there are a few things you and your partner need to discuss before you announce your plan to have a destination wedding. You must set a budget, choose your wedding party and create a guest list. Set a wedding date that is at least nine months away from the time you start planning to minimize the stress of feeling rushed. Planning will be easier if you know the answer to several questions from the beginning:
What are the legal requirements to make your union official in the area or country where you are getting married?
Are your passports current (if traveling to another country)?
What other events, such as the rehearsal dinner or bachelor/bachelorette parties, will take place on location?
Once you agree on the basic details, the next step is hiring a wedding planner. Many people are tempted to skip this step to save money, but the service is well worth the cost, particularly if your planner is familiar with the customs and regulations in the place you have chosen to tie the knot. An experienced planner can help you with every detail, from booking your travel to finding fantastic local vendors.
Reservations
With any wedding, you want to make sure your venue and vendors are available on your special day. This step is even more crucial with a destination wedding, as last-minute changes are not likely to be an option. As soon as you have a date in mind, you need to book your venue and make your travel arrangements. Finalize your guest list and send out invitations as early as possible so those who are planning to attend can do the same.
Communication
Keeping everyone informed is especially important with a destination wedding. Your wedding planner can help you put together an affordable and useful wedding website that anyone can access when they have questions. As your guest list for the actual event is likely to be small, you may want to showcase a local event or two to give those who are not coming to the wedding an opportunity to celebrate with you. The website should allow guests to RSVP so that you have all the information you need about whom to expect.
Another perk of having a wedding website is that you can list your registries there. This is convenient for everyone, regardless of which events they're attending, but it is especially helpful for those going to the wedding itself. They can simply order online and have the gift shipped directly to you instead of having to include it when they're packing.
Finally, the wedding website is a great place to give guests more information about your destination. You can include a checklist and itinerary for those traveling to the location as well as a list of festive spots they may want to explore on their own.
Enjoying Your Destination Wedding
Although a wedding in a different location takes a little more forethought, it is well worth the effort and expense. With a little extra planning, your destination wedding can be everything you dreamed it could be.