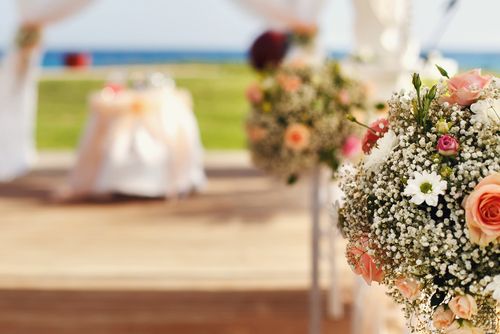 A lot goes into making sure your wedding day goes off without a hitch. Most professional planners advise that you give yourself at least six months to plan your special day. However, even if spring blooms are starting to show, it's not too late to create your perfect summer wedding and have fun along the way.
Three Months Prior
The first two things you need to do is pick a date and assemble your team. If you are going to hire a wedding planner, make sure to find one who understands the time crunch you are on. Choose and confirm your wedding party, and start making a guest list. Consider sending out save-the-date invitations or text messages so that people can make plans to attend.
Make sure you know the timeline for making your union legal in your state. It's a good idea to go ahead and get your legal paperwork in order at this point. This is also the time to book all the major services you will need:
Venue
Officiant
Caterer
Band or DJ
Photographer
At this point, you have a basic outline in place. You know everything that will happen on your big day and who is responsible for it. Plan a date night with your partner to celebrate how much you have already accomplished.
Two Months Prior
Now is the time to take care of the finer details. Plan and book your honeymoon travel. Meet with your officiant to discuss everything you want to include in the ceremony. Select decorations and order your flowers. Finalize the songs you want musicians to play, both at the service and the reception. Purchase the rings and your wedding attire.
If you have not sent your official wedding invitations already, you need to do so as soon as possible. Host a celebration night with your wedding party to assist with this task. It's also a good time to get together and talk through what their responsibilities will be on the day of the event.
The Final Countdown
You may be shocked to discover how many things come up when you are in the final month of planning. A solid checklist and clear communication will help see you through it. Appoint a specific friend whom you can call to help you de-stress when the pressure gets heavy.
One Month Before the Wedding
Make sure your wedding attire is ready. Book your alterations and any beauty appointments, if applicable. Check in with your wedding party to make sure their clothes, shoes, and accessories are ready to go, too. Finalize the plans with all the services you have booked, including headcounts and menu items, to make sure everyone is still on the same page.
The Week of the Wedding
Finalize the timeline for the ceremony and reception, and distribute it to everyone who is assisting with the day. Make a list of everything you will need on the wedding day. Start packing the items you will need in your dressing room as well as your suitcases for your honeymoon.
Consider whom you will need to pay and tip, and make sure you have arranged to do so in a timely manner. Set aside a night to celebrate with those in your wedding party to thank them for all their hard work and give them gifts of appreciation.
The Day Before the Wedding
It's tempting to have a long to-do list for the day before your wedding. It is better to set aside this time to relax so that you are refreshed for the day ahead, though. You probably already have the rehearsal and dinner afterward for the evening, so take the day to pamper yourself or do something fun with friends.
It's not easy to plan a wedding in three months, but it can be done. All you need is a little organization and a lot of help!