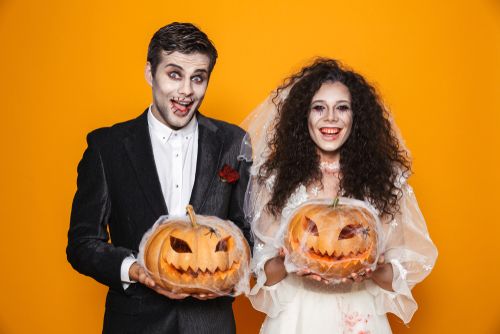 Fall is a magical time of the year. The weather cools off, and the days start getting shorter. Many betrothed couples choose to get married in the spring, but why wait? Fall provides the perfect backdrop for a wedding with a Halloween theme. If you are looking for ideas for a spookier way to say "I do," there are many options to choose from.
Invitation
Traditional wedding invitations tend to be white and dainty, but the modern couple has many more choices. You want an invitation that reflects your overall theme. Consider a black invitation with white writing or something in a gothic script. A Victorian style or tarot theme is also a good choice to set the mood for the upcoming ceremony.
Your wedding's webpage is also a great place to introduce the tone of the upcoming nuptials. Many of your guests will visit the webpage for links to your registry, to get directions or to view pictures. Your engagement photos as well as the rest of the site should match your wedding aesthetic.
Location
If you attend a church with extravagant architecture, you may have a built-in venue that is perfect for a Halloween-themed wedding. Part of the fun of a special look for your ceremony is finding a great place that naturally lends itself to what you have in mind. A historic building near a wooded area gives you both indoor and outdoor choices. Since the sun sets earlier during the fall, it is possible to plan a moonlit ceremony or reception without making the party last too long into the night.
Decoration
No matter which location you choose, the decor is the key to creating the atmosphere you want. Dried flowers are an excellent option, and they are much easier to store than fresh blooms. Roses and vines can be used to design quite a few different looks for everything from the bouquets to the aisle markers, so the possibilities are endless.
While important, the floral arrangements are just one aspect of the wedding and reception decor. A darker theme or anything outside the norm may take a little more planning, but the overall effect can be breathtaking. If you are committing to a theme, you want to make sure every aspect of the event goes along with it:
Entrance to the venue
Waiting area
Backdrop to the altar
Seating at the ceremony
Guest tables at the reception
Lighting
Appropriate lighting is a crucial part of presenting the decor of your event. It doesn't do any good to spend time and money on a more gothic theme if you flood the area with fluorescent lights. Candles are ideal for a Halloween-themed wedding. If the venue you choose doesn't allow open flames, consider flameless options, or go with strings of twinkle lights instead for a similar effect.
Attire
A Halloween-themed wedding gives you a great excuse to play with color. For formal events, dressing the entire wedding party, including the couple, in black creates a striking look. If you want to stick to a more traditional palette, you can still experiment with textures. Rich fabrics such as velvet look just as great in white as they do in dark, soulful colors for the rest of the party.
If you or your partner want to wear a veil, remember that you don't have to limit yourself to tulle. Intricate lace in the right color will match a darker vibe. Lace-up boots are a good alternative to dress shoes, and a cape is a smart addition to the ensemble, particularly if you are going to be outside on a cool evening.
Your wedding should be a reflection of the style you share with your partner. There are many ways to make your ceremony beautiful, even if it veers off the traditional path.