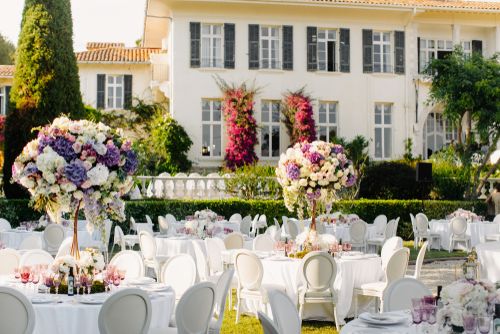 You have found the person you want to spend the rest of your life with. Now all you need is a place to make it official. Choosing the perfect venue for your wedding or reception is a big part of making sure your special day is exactly what you want it to be.
Requirements for Your Ceremony
The first thing you must do before you even start searching is pin down what you are looking for. Picture your perfect wedding day. What is the atmosphere? What season is it? There are many factors that help you narrow down the choices available:
City - Do you have a specific location in mind? Are you willing to travel a little (or a lot) if the right venue is somewhere else?
Space - How many guests are you inviting? Is there adequate parking available?
Amenities - For the price quoted, are you just getting the venue or does it have services or rentals available as well?
Restrictions - Can you use your own wedding planner or must you hire the one on venue staff? Is the venue LGBTQIA+ inclusive?
Cost - How much can you afford to spend? Is there a workable, less expensive option elsewhere?
Type of Venue
When you picture your wedding and reception, talk to your fiancé about the type of venue you have in mind. Do you want an indoor or outdoor event? Do you want to get married in the city where you are starting your life together, or do you want a destination wedding? Get on the same page with your partner before you start making appointments.
There are likely a lot of indoor options for your wedding and reception in your area. A hotel or restaurant is more likely to give you the opportunity to choose your own resources. However, if you don't have any existing preferences and just want to make one payment to cover everything, consider looking for an event venue that specializes in weddings, as it will likely have a planner, caterer and other necessary staff already in place. Your church's sanctuary is another option. While it's important to check on the rules and restrictions with any place you're considering, it's especially crucial when working with religious venues. The price may be lower, particularly if it's a small church or you are a member, but there may be extra cleanup work or guidelines involved.
Finding the right outdoor space comes with its own challenges, but if you are having a large celebration, it may be more economical. Just make sure you have enough tents or an indoor backup plan in case of rain. A destination wedding is great if you have a favorite vacation spot you both love. You can roll the wedding and honeymoon into one trip! This is also a smart option for keeping the event small, as only a few key friends and family will likely attend.
Logistics for the Day
Imagine that you are a guest at your wedding. How easy is the venue to find? Is ample parking available, and do you have to pay extra for it? Is there a clear plan for the transition between the wedding and reception locations? These are all issues that could impact how much fun guests have.
If you are only inviting a limited number of people to the wedding and saving the big party for the reception, focus your energy on making the reception venue as easy as possible to navigate. An option for including everyone at both celebrations is choosing one location that works well for both. This limits both travel and confusion for guests.
Finding wedding and reception venues for your big day checks a large task off your to-do list. Once you have the perfect place, everything else falls more easily in line.