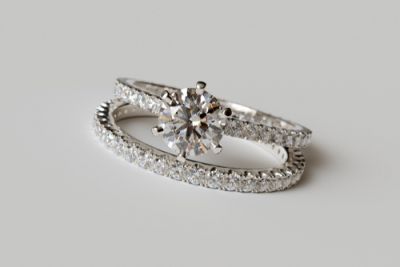 If you and your fiancé chose an engagement ring and wedding ring combo, you already have the perfect wedding band to go with your engagement ring. Many couples nowadays, however, prefer to buy an engagement ring first, usually a diamond solitaire, and then pick out a wedding band that will complement it and make for a stunning set.
If you fit within this category, you will discover, if you haven't already, that choosing a wedding band is just as exciting and requires just as much thought as picking out your engagement ring. First you will need to decide if you want the metal of your wedding band to match that of your engagement ring. This is what most couples choose, i.e., a yellow-gold wedding band if the engagement ring metal is yellow gold. However, this rule is not written in stone. Nothing says you can't have a perfectly stunning — not to mention unique — ring set where one ring is gold and the other is silver.
Stone Cut
Since you want your wedding band to complement your engagement ring, it's important that you know the cut of your solitaire, or your ring's center stone. The most common cuts are the following:
Asscher: square emerald
Baguette: long rectangle
Briolette: pear or drop shape with 84 triangular faceted sides and top
Cabochon: non-faceted
Emerald: rectangle with faceted corners
Heart: heart-shaped; i.e., pear shape with cleft in the top center
Marquise: football-shaped faceted
Octagon: eight-sided "step-out"
Oval: elliptical
Pear: teardrop shaped
Princess: square shaped
Radiant: square or octagonal with straight-line corners
Round: classic round shape (a/k/a Round Brilliant, American Ideal, American Standard)
Trillion: triangle-shaped (a/k/a trilliant)
Pairings
Once you have decided on your wedding band's metal and know the stone shape and setting of your engagement ring, now comes the fun part: pairing your engagement ring with a wedding band that complements it. Again, there are no hard and fast rules, and you need to trust yourself to make the choice that looks best to you. Having said that, however, you might want to consider the following suggestions of what looks good with what.
Curved or Notched Band
If your engagement ring consists of a classic round solitaire, you can't go wrong with a notched or curved wedding band. The notch or curve is designed to fit around your solitaire and make it look even bigger.
Chevron Band
If your engagement ring consists of a marquise or pear-shaped solitaire, a chevron wedding band with its pointed V-shape will not only enhance your solitaire but also add additional modern styling to either of these two modern cuts.
Pavé Band
If your engagement ring is halo style, a pavé wedding band with its tiny, close-set diamonds or gemstones will give your bridal set a continuous sparkle. In fact, a pavé wedding band looks good with virtually any engagement ring type.
Twisted Band
Who said wedding bands have to be flat? A twisted band adds texture to your bridal set and looks particularly good when paired with an engagement ring featuring an oval-cut stone.
Channel Band
Like a notched, curved, or pavé wedding band, a channel band also pairs well with a diamond solitaire engagement ring. Only here the band of tiny diamonds or gemstones nestles in an actual metal channel whose two sides hold them firmly in place
Ring Enhancer
For a truly outstanding look, you might want to consider a ring enhancer instead of a traditional wedding band. This type of ring is actually two wedding bands, one of which fits on each side of your engagement ring. Also called a ring guard, a ring enhancer looks good with virtually any type of engagement ring and adds width and sparkle to the overall set.
When choosing your wedding band, it's ok to think outside the box. Select something that appeals to you and you can't go wrong!