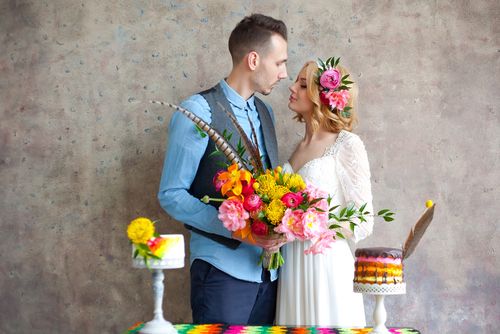 It is hard to deny that weddings have gotten a bit out of control over the last few decades. While the concept of marriage is practically as old as recorded history, the traditions surrounding the practice have changed time and time again. Up until recently, couples had been pushing the envelope in regard to the size of their events. The idea of the modest reception was replaced by large, lavish parties with long guest lists and dozens of expensive entertainment perks for guests. However, shifts due to major global events have caused countless couples to rethink their weddings. Now, it is becoming more popular to stick with a smaller crowd and host an intimate gathering. Enter the microwedding and the minimony. Learn more about your options and see if your own big day might benefit from being scaled back just a bit.
Why the Change?
First, you might be curious why couples are going in this new direction with their nuptials. While there are a number of contributing factors, analysts in the wedding industry point to 2020 as causing a major shift. The spread of the novel coronavirus made a lasting impact on almost every aspect of life. Since people all over the world were under quarantine restrictions or stay-at-home orders for a good chunk of 2020, weddings were being canceled left and right. Research now highlights that about 61% of couples either canceled or postponed their events.
As restrictions were eased, many couples decided to play it safe and only gather a select number of people to celebrate their unions. Whether born out of health concerns or as a way of saving money in an unpredictable global economy, the decision to "go small" has grown significantly in popularity.
The Minimony 
One of the more interesting ideas couples are playing around with is throwing a minimony. As the name implies, this is essentially a miniature version of a traditional ceremony. Instead of gathering everyone you know together, the list of guests is restricted to only the closest loved ones. Some couples even ditch guests altogether, choosing only to invite the officiant and witnesses in order to make the moment as personal as possible.
This idea was quite popular in 2020, as it allowed couples to get married in a manner that was less involved than a standard wedding and more meaningful than simply eloping. This can also be a good placeholder event until you have the time, energy, and funds to put together a bigger reception for friends and family.
The Microwedding
Another popular idea is the microwedding. This option is a bit more involved than the miniature ceremony, as it involves still hosting a full wedding at a reduced scale. The microwedding had been growing in popularity before 2020 but really took off as couples looked to cut corners and guest lists. By definition, this is a marriage event that includes fewer than 50 people. Everything else is the same, from dinner to dancing to drinking, but you have the advantage of only paying for the guests who matter most to you.
Picking the Right Fit
Determining which wedding option is best for you will take time. If you don't care much about partying or having the spotlight placed on you, then ditching the reception for a miniature ceremony is a great idea. Those who want all the bells and whistles of a traditional reception without the large size may find the microwedding makes the most sense. Give yourself time to weigh the pros and cons of each to see which fits your goals best.
The average wedding might have changed drastically due to recent events, but this doesn't mean people are giving up on marriage. Learn more about smaller events and see how you can personalize your big day to fit both personal and global changes.