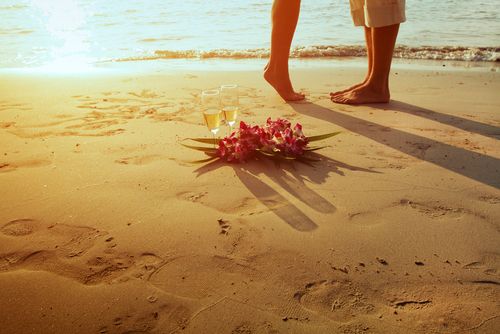 Your wedding is meant to signify the beginning of your life together with your spouse. There is no shortage of advice, websites, magazines and television programs to tell you how you should get married. While these articles and shows may be helpful when you are looking for ideas, they can quickly overwhelm you with their lists of what all perfect weddings must have. If you and your partner value sustainability, have a strict budget or just want something simpler than the big productions outlined in those pages, you must decide what to keep and what to leave out. The good news is that there are plenty of items that wedding planners often call essential that are actually just extras.
Printed Invitations
Many people spend a lot of time looking for the right invitation. Once the materials are ordered and arrive, then they spend even more time assembling and addressing them. What if you could get back that time and money as well as save a few trees along the way? The invitation serves three main purposes:
Announces the time and location of the ceremony
Indicates expected attire
Requests an RSVP
All of these things can be accomplished by an evite. Many modern printed invitations encourage anticipated guests to visit the wedding website for more information or to record their intentions to attend or decline, so an evite from which they can just click the link may be more user-friendly anyway.
Programs
Another way to cut down on paper usage and cost is to skip the wedding program. Unless it is going to be an interactive event, attendees don't really need a step-by-step breakdown of what is going to happen during the ceremony. If there are times when they are expected to participate, designating someone to give simple instructions or projecting the liturgy, lyrics or script onto a screen or blank wall is efficient and cuts down on waste. If a projection screen isn't desirable or feasible, you can also email a digital program to those who indicate they are coming. Then when the time comes for them to use it, they can just pull out their phones and follow along.
Flowers
It may be difficult to imagine a wedding without tons of floral arrangements everywhere you look, but significantly reducing or eliminating flowers from your special day comes with two main benefits. First, it reduces the overall budget. Having a bouquet for every participant, arrangements on every pew or chair and centerpieces on every table is quite costly, particularly when you consider that most of these flowers will die and be thrown away within a few days. Second, it reduces allergens. For chronic allergy sufferers, weddings can be stressful. On top of other guests' insistence on dousing themselves in cologne or perfume, the onslaught of fragrance from the floral arrangements can exacerbate their reactions. Removing one major trigger helps ensure that the only thing taking your guests' breath away will be the happiness they see on your face.
Rituals
Many people have a complicated history with wedding rituals. They remember the time when they were the oldest single person on the floor trying to catch the bouquet. Memories of interminable unity candle ceremonies or complicated communion instructions may come up. Chances are that you have a few of these unsavory recollections as well. Give yourself the freedom of leaving them out of your ceremony, even if others insist they are essential.
The only necessary elements of a wedding are witnesses, the marriage license and someone ordained to perform the ceremony. Everything else is negotiable. Whether you are struggling with a tight budget or want to minimize your event's carbon footprint, there are many items that have more suitable alternatives or can be left out altogether. If something isn't meaningful to you or your partner, it doesn't belong in your wedding.