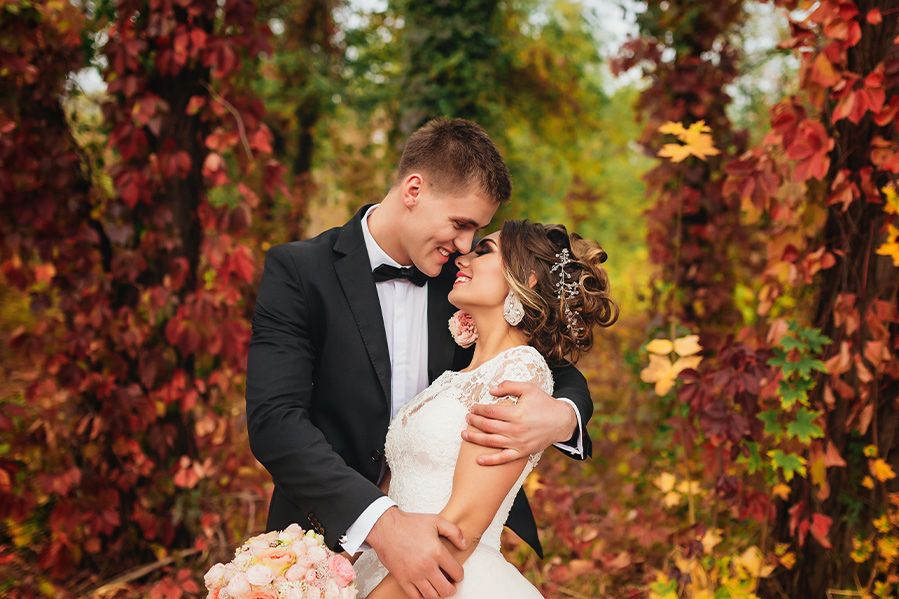 Your wedding date is likely something that you have given a lot of thought. After all, you want to choose a time when as many honored guests as possible can make it. There are also other practical factors to consider, such as the availability of your favorite venue.
The theme of the wedding may also play a role in your decision. For example, if you want a ceremony on the beach, late spring or early summer is probably the best time to schedule it. However, if rich greens, burgundy, orange and other autumn hues appeal to you, there are several themes that make a good argument for a fall wedding.
An Autumnal Harvest 
Many couples choose an autumn wedding date because they want to fully embrace the best colors the season has to offer. The harvest theme is a great idea if you are planning to host your wedding outdoors. There are many prime locations that really allow nature to show off the beauty of the season:
Local farm
Orchard
Winery
Park
Garden
Another benefit of a harvest theme is that it can give your event a more rustic feel than a traditional ceremony. This can significantly broaden your decor options, particularly if you are looking for ways to save money. It's easy to make beautiful centerpieces and other decorations with wildflowers, wheat, pumpkins, leaves and other natural items that you or your wedding party can gather yourselves or get for a good price.
An Academic Fall Wedding
Do you or your partner work in education, or are you avid readers? You can incorporate your love of learning into your ceremony and reception. A back-to-school theme may sound odd for a wedding, but it comes with some gorgeous decorative opportunities as well as unique menu and gift ideas.
Start by using chalkboards for all your signs, such as table markers and menus. Apples are abundant in the fall, and there are many creative ways to use them not only as decorations but as the main stars of your menu items (including your wedding's signature cocktail). Finally, you can easily procure a lot of old books at a reasonable price from library or garage sales to use in the decor, and you can give books as favors to your guests too.
A Gothic Theme
One of the most popular times to have a fall wedding is around Halloween. It's the prime season for couples who enjoy dark, elegant beauty. Many gothic weddings feature black lace and candlelight. Add red roses to give your event dramatic pops of vibrant color. 
Couples who choose this theme often opt for attire in nontraditional palettes. For example, if you are not interested in the typical white wedding dress, consider black or other colors. Those who wear tuxedos may select a more dramatic cut or add steampunk embellishments. Whatever you choose, a gothic theme gives you the freedom to think outside the box when it comes to many aspects of your wedding day.
A Pre-Winter Wonderland
For those who can't wait for the first frost, a sneak peek at winter can make a beautiful wedding theme. Attendants can wear rich jewel tones that provide a lovely contrast to your favorite shade of white or cream. Warm beverages such as hot chocolate or apple cider may be served alongside the cake and hors d'oeuvres. If the weather and topography in the location permit, you may even consider offering sleigh rides to take guests from the wedding to the reception venue.
There are many ways to make a fall wedding unique. Choosing a theme that embraces the magic of the season is a sure way to make it a memorable event for everyone who attends.