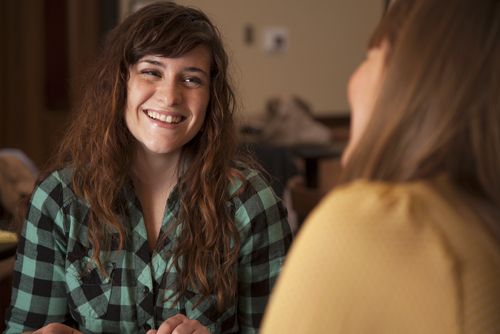 Great worship, a wonderful pastor, and an excellent children's program are all great things to have in a church, and it may lead you to want to bring friends, family, and neighbors with you. But how do you do that when many people seem uninterested? It can be a difficult conversation to bring up, and you certainly don't want to make things awkward. Here are some things to consider when inviting someone to church.
Have a Conversation
You can often start a conversation and find an easy way to fit the topic of church in. For example, you might each be talking about your kids, and you bring up how much your children love being involved in your church. Or, you can bring up an upcoming event, like a trunk or treat or a bounce house, and ask if they'd like to bring their kids. You don't want the conversation to sound forced or tense, and you don't want to make it uncomfortable if they decline your invitation. Inviting them to an event instead of a service can also help make it feel less awkward.
Respect Boundaries
Of course, you will likely run into people who have no interest in going to church. It may be because they simply don't have those beliefs or because they had a negative experience in the past. If they give off the vibe that they aren't interested or simply tell you that, then respect their decision and change the subject. Church members who are pushy or continually ask are only going to push their friends further away, and it almost certainly will not change their minds. Let them know that the invitation is always open and to let you know if they change their mind.
Let Them Know What to Expect
Let's say you have a friend attending church with you. It would help if you gave them an idea of what to expect. Let them know whether the dress code is casual or if they should wear nice clothing. Inform them how parking works, service times, and how to check their kids in. You might consider showing them the website so they can get a bit of the lay of the land. Stay open and communicate with them so they aren't unprepared, and try to attend the same service as them so they can see a familiar face.
Share the Church Website
Many churches these days have their sermons online. Encourage your invitee to check out the website and perhaps listen to a few minutes of a sermon to see if they think it will be something they'll enjoy. In addition, you'll want to share the church's social media sites. This allows them to see how congregation members interact with each other and can even show the congregation's strengths and weaknesses. It can also be an excellent place for them to post that they are coming next week so that the greeting team knows who to look for and welcome.
Get Involved
Getting involved with a serving team is a great way to not only be a helpful member but also help people know how much you love your church. It also gives you the opportunity to meet new people, not only people who are serving on the same team as you but new faces who come to the service.
These tips are just a few of the ways you can invite people to church and make them feel welcome. The most important thing is to not be pushy or put pressure on the people you are talking to and to ensure they are as prepared as possible for the service if they decide to come.