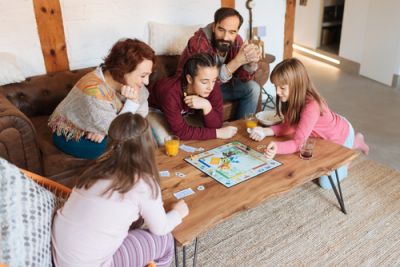 There's no shortage of things to do on Thanksgiving. If you're like a lot of families, mom or dad is in the kitchen cooking dinner while the kids play on their cell phones or watch TV in another room. Thanksgiving is more than just a huge meal; it's a great day to enjoy some family time. Here are some ideas to take the stress off your holiday.
Get Out Board Games
Board games can be a lot of fun when you have time to play. With no one having to go to school or work the next morning, you can get out Monopoly or Risk and enjoy an evening of competition and fun. Younger children still enjoy Chutes and Ladders or Candyland. Got a group? Go with charades or Pictionary, games where you can divide up as teams and work together. Good old-fashioned Yahtzee, Farkle or Go Fish are also good options.
Get Out Old Photo Albums
If you've got several generations in your house, this is a good time to record stories and discuss old times. Take out the photo albums and yearbooks of everyone. Enjoy the fashions and hairstyles of yesteryear. Tell stories about each other when you were growing up.
Have an Outdoor Scavenger Hunt
You'll find tons of lists for outdoor scavenger hunts on Pinterest. Everyone will get out of the house while the turkey is cooking, which means you won't have to deal with the inevitable question, "Is it time for dinner yet?" It gets your family moving and off their cell phones. You can choose to involve the neighbors or just look for items in nature. Most people enjoy scavenger hunts, especially when there's a prize at the end.
Put Up the Holiday Decorations
Sure, it can be a chore to drag out the tree, lights and ornaments to get ready for the next holiday. But when you work together, the workload is lighter and more fun. Whether you're getting ready for Hanukah, Christmas, Kwanza or another festival, make it a family experience by remembering who gave you the holiday decorations that you put out each year. Whip up a batch of hot chocolate and enjoy the time that you spend talking about old memories and making new ones.
Volunteer Together
Take Christmas cards to the residents at your local nursing home. Offer to help out at the local animal shelter with the regular staff. Find out which organizations are serving dinners and sign up to help. There are plenty of activities you can do together. Make sure to get a couple of pictures for next year's memories.
Make Special Deliveries
It might be too early to sing Christmas carols, but you can take a meal to someone who is shut-in or deliver a special treat to someone who had to work. Nurses, police, EMTs and firefighters don't always get the holidays off. You probably know at least one person who couldn't take the day off because others in the community rely on him or her.
Take a Family Photo
Oscar Wilde said, "After a good dinner one can forgive anybody, even one's own relations." Everyone's feeling good after the meal. You've got everyone together. Memorialize it in a photo. You don't know what's going to happen in the next year, nor when you'll have everyone in the room together again. Get a formal portrait. Let the kids go crazy with the camera, too. You may get some fun photos while they're goofing around.
Let the Day Happen
According to Jerry Seinfeld, "There is no such thing as fun for the whole family." Maybe you don't need to plan anything. Set out ideas and let others take it from there. The important thing is to enjoy your day and make it about family.