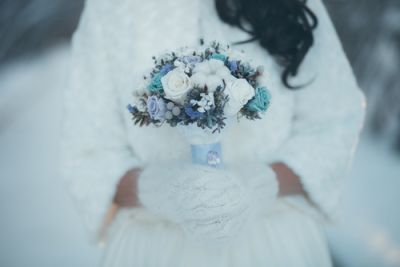 One of the most important decisions you need to make about your upcoming winter wedding is what fabrics to use for your wedding gown, your bridesmaids' dresses, and the tuxedos that will be worn by your groom and his groomsmen. And even though your wedding and reception will, of necessity, likely be held indoors, some fabrics are more suitable for elegant winter wear than others. Here, in alphabetical order, are the eight most popular — and comfortable — winter wedding fabrics.
Brocade
Suitable for either female and male attire, brocade is a rich, elegant, textured, and heavy material. Actually, the word "brocade" applies not only to the fabric itself but also to the weaving method used to produce its low-relief tone-on-tone patterns. Available in virtually any color, brocaded fabric often incorporates gold or silver accent threads within it. It can also be beaded as desired.
Gabardine
When it comes to men's winter attire, gabardine may be just the material your groom is looking for. It makes elegant tuxedos and suits that have a slightly diagonal grain to them that can only be seen up close and personal. Since gabardine is one of the heavy, very tightly-woven fabrics, you may be sure that all the males in your wedding party will remain warm and toasty throughout your winter wedding and reception.
Piqué
Piqué is a heavy fabric that is woven in such a way as to produce an almost honeycomb appearance that is highly distinctive and quite lovely. Other piqué "patterns" look more like a waffle-weave or a bird's eye design. Don't let the fact that piqué fabrics are generally made from 100% cotton fool you as to their elegance. The extra yarns, called stuffer yarns, required for piqué produce a stiffer fabric that grooms and groomsmen especially love for their shirt fronts. The texture and depth of piqué also makes for a classic, tasteful, and truly elegant wedding gown or bridesmaid dress.
Satin
Satin fabric represents a mix of several different threads, including silk, rayon, nylon, etc. Noted for its extraordinary softness and luster, satin combines a light and heavy feeling that many brides choose for summer dresses as well as winter ones. In fact, satin may well be the fabric of choice when it comes to wedding gowns.
Silk
While silk has a soft feel and sheen similar to satin, it is a delicate fabric especially appropriate to winter wedding attire since warm weather can easily damage it. Like brocade, a fabric often woven of silk threads, silk itself is appropriate for either female or male garments and comes in virtually any color.
Silk Mikado
Silk mikado is a special, quite heavy version of silk per se, which makes it perfect for winter wedding fashions. It adds structure and warmth to garments and evokes lavishness with its soft feel.
Taffeta
If you want your wedding guests to hear you as well as see you as you walk down the aisle, consider a wedding gown made out of taffeta. This material, made from silk, rayon, acetate, and/or polyester threads, actually rustles when you walk! It's also an elegant fabric with a softer, more subtle sheen than satin or silk.
Velvet
Nothing says winter better than soft, warm, luxurious velvet. Made from either natural or synthetic fibers, velvet has a distinctive soft, almost fuzzy feel. Available in virtually any color, it makes for not only a rich, glamorous wedding gown but also equally rich bridesmaid dresses and groom and groomsmen tuxedos and suits.
Whichever of these highly distinctive winter fabrics you choose, you can be assured that your wedding attire and that of your entire wedding party will garner numerous oohs and ahhs on your special day.