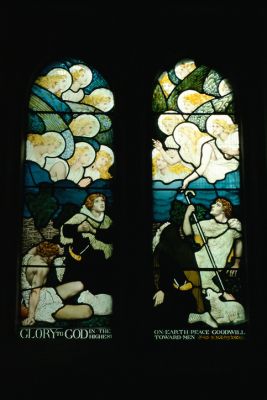 The United States has so much religious heritage that is preserved in seminaries and museums. If you can't get to one of these spots, check your local religious university for exhibits within its walls that will help you understand the heritage of religion in your community.
Boston Theological Institute, Massachusetts
This institution is a consortium of 10 theology colleges spanning the entire Judeo-Christian spectrum from Orthodox, Jewish, Protestant and Catholic schools. Not only can you study theology in this group, but it's home to some of the most significant libraries, museums and exhibits of religious artifacts and information. Some of the schools are the oldest divinity schools in the country.
Shaker Village Museum, New Hampshire
This site is probably the most well-preserved Shaker village in the United States. The Shakers were a Protestant sect that emerged in the 18th century in England. They believed in equality of the sexes and communal living. This village was founded over 200 years ago. Its last inhabitant died in 1992, and now it's a museum that remembers what it was like to be a Shaker.
Lutheran Museum, Missouri
The Lutheran Museum at the Missouri Synod headquarters has some wonderful treasures brought to the New World by the German colonists. The library includes first editions of books written by Martin Luther. Several buildings from the oldest Lutheran settlements in the 1800s have been preserved.
Salvation Army Museums
Locations in West Nyack, New York; Rancho Palos Verdes, California; Des Plaines, Illinois; Atlanta, Georgia
The Salvation Army is probably the largest charitable organization in the United States. Although it was founded in England, it caught on in America in the late 1800s. In 1886, President Grover Cleveland welcomed the Salvation Army leaders to the White House. The rest is history. Each of the territorial headquarters has its own museum with similar themes, but different exhibits. Each site honors local leaders and the history of the area.
Simon Wiesenthal Center & Museum of Tolerance, California
Simon Wiesenthal was a Holocaust survivor who spent much of his life hunting down Nazi war criminals. He founded the center in 1977 to continue the fight against anti-Semitism. This museum is dedicated to education about prejudice. The rooms dedicated to the Holocaust are filled with artifacts and testimonials that explain the horrors of the time. Visiting this museum should be on everyone's bucket list.
Christian Heritage Museum, Maryland
This Christian museum is a private organization, unlike most of the museums that house religious artifacts. Most of the items in this exhibit are books and artwork. It houses a Bible that is over 400 years old. Many believe that the collection of autographs and papers from some of the greatest Protestant Christian theologians. The museum is a restored farmhouse that doesn't appear like much, but inside, there is a wealth of historical treasures.
Billy Graham Library, North Carolina
Reverend Graham has to be one of the 20th century's most influential Protestant ministers. Every U.S. President since World War II met with Graham. Some even offered him high positions in the government. This library not only houses a collection of his books and pictures, it also has a beautiful prayer garden and a reconstruction of Graham's childhood home.
Jewish Museum of New York, New York
It's estimated that this museum is the most-visited site of Jewish interest in the United States. The collection is over 20,000 artifacts and pieces of art from Jewish history tracing back thousands of years. This museum pioneered ethnically oriented museums. It's considered a prototype of its kind and now there are over 100 Jewish museums worldwide, thanks to its efforts to preserve Jewish culture and heritage.