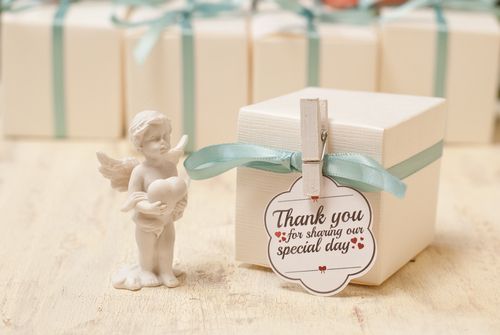 There are many ways to help the guests at your wedding feel welcome. Warm greetings as well as plenty of food, drinks and activities to enjoy can make the event fun for everyone. If you want to go the extra mile, though, consider putting together a welcome bag for each guest. While welcome bags are more traditionally a feature of destination weddings, more couples are learning the perks of having a special gift for those who attend their wedding even when they host it locally.
Crucial Information
Planning a wedding is stressful, but attending one can be nerve-wracking, too. Single guests may worry that they won't know where to go, and those who come in pairs or in groups may find themselves arguing more than enjoying the day if there are any uncertainties left unanswered. One possible remedy is to include all the information they need in their welcome bag:
General outline of the ceremony
Directions and a map to the reception venue
Transportation options and cost
Recommendations for local restaurants for out-of-town guests
Another common worry among wedding attendees is that they won't know the people at their table or have anyone to talk to. To spark interesting conversations that go beyond the weather and other small talk, include a list of topics to discuss at their tables. You can even personalize it for each table by including topics that the specific people sitting there would be interested in discussing.
Practical Supplies
When planning the contents of your welcome bags, try to put yourself in your guests' shoes. Consider what you would want to make the wedding more enjoyable. For example, you can include both a miniature bottle of sparkling wine as well as a pain reliever and bottle of water for the morning after. If your wedding is outdoors, a small bottle of sunscreen, a fan, shades or a mini umbrella would be a good option. Guests who have traveled from other cities may appreciate a small toiletries kit or a sleep mask.
It's also a good idea to include items that guests will need at the wedding or reception itself. A disposable camera they can use to take pictures of their experience is an old-school way to ensure that you get candid shots as well as the professional ones your photographer takes. If you want to be able to track pictures on social media, include a card that has the hashtag for your wedding on it. Finally, no wedding gift bag is complete without a packet of birdseed to toss at you and your new spouse as you depart at the end of the event.
Personalized Additions
The best gifts often reflect the personalities and quirks of the givers. Choose a well-known hobby or event that you share as a couple and include a small token in the guest bags. For example, if you met at a coffee shop, a pair of mugs with your names or pictures and the date of your wedding is a sweet way to tell that story (bonus points if you include a gift card to the shop or some of their house-roasted coffee beans). Of course, if your wedding has a theme or color scheme, be sure to incorporate it into the welcome bags.
Making each guest's bag unique may be a daunting task if you are hosting a large wedding, but with smaller events, you can include something in each gift that is particularly meaningful for its specific recipient. Handwritten thank-you notes are a nice personal touch. If your guests have children, small toys or activity books can keep them entertained.
There are hundreds of small ways to show guests your appreciation for their love and support. Welcome bags that are both practical and meaningful are a nice touch to add to your special event.