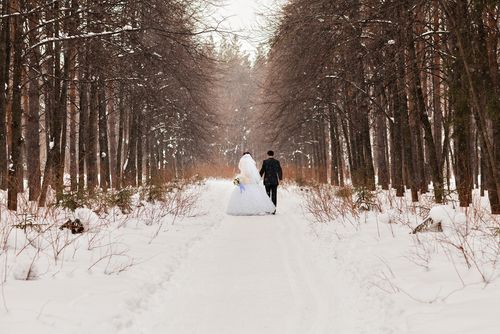 When you fall in love with the person you know you want to spend the rest of your life with, summer may seem too long to wait to tie the knot. You may have always dreamed of a post-wedding sleigh ride through snowy streets. There are many reasons that couples opt for winter weddings, and there are also many mistakes that a lot of them make. Here are four things you want to avoid if you have your heart set on a ceremony set during the coldest season.
Dressing for Warmer Weather
Because late spring and early summer are known as prime wedding season, many magazines that cater to planning options focus on those months. You have to keep the weather in mind when you are planning what you want to wear and how you want your attendants to dress. Even if the wedding is going to be inside, your guests will be wearing winter clothing, so the thermostat of the venue will likely be set at a lower temperature than usual to ensure their comfort. On the bright side, this gives you more formal attire options, such as adding vests to the suits or using lusher, heavier fabrics such as velvet for dresses.
It is also important to take your footwear into account. For most weddings, the bride likely already has two pairs of shoes picked out—one for the ceremony and reception and one for the departure. If snow, rain, sleet or ice is possible, however, the whole wedding party should consider having an extra pair of shoes just in case one gets drenched in transit.
Disregarding Lighting Issues
There are few things more beautiful than an outdoor wedding decorated with twinkle lights. If you don't plan your pictures ahead of time, though, the day of the event may be the only time you get to see it. Most professional photographers can still capture images in lower light, but they have to bring the right equipment when they do so. Don't assume they know they need to bring extra lighting with them. Make sure you talk through your plans thoroughly and give specific times when they will be taking the desired shots so that they can be adequately prepared. An indoor photo shoot is also a viable alternative, especially if your outdoor wedding is in the evening during the time of year when the sun sets earlier.
Assuming Guests Will Be Prepared
It's easy enough to forget items of convenience when you are the one planning the wedding. For people who are attending a wedding and are not part of the planning phases, it is even more likely that essentials may be forgotten. Your emergency kit needs to contain winter-specific items:
Hand warmers
Extra tissues
Lozenges
Windshield ice scrapers
Even if the festivities are mostly indoors, guests may misjudge the temperature or their needs once they get inside the building. Help your guests out a little, particularly if you know the weather is cold and they may be outside for a while. Consider a welcome packet that includes a pair of gloves and a scarf, or have blankets draped across the seats if they are going to be sitting outside at any point.
Forgetting About Insurance
Winter weather is unpredictable. The forecast could show clear skies for several weeks before the day of your event and then deliver a blizzard the night of the rehearsal dinner. While it's important to have wedding insurance no matter what time of the year it occurs, insuring your event during the winter can save you a lot of money if you have to cancel at the last minute because of inclement weather.
A winter wedding offers opportunities to embrace unique themes and clothing styles that would not work in the summer. By avoiding these common mistakes, you can get married in the winter wonderland of your dreams.